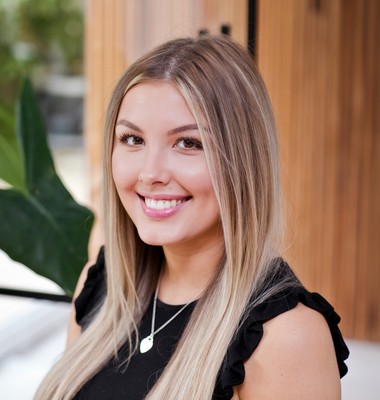 Hayley writes creative content for your website. Her skills focus on writing content that your website audience wants to read. Sound easy? Well, it isn't! How many articles have you read and lost interest in after a few sentences?   Hayley spends time researching your niche so she is able to add her creative flair to topics that interest your audience. Her writing keeps readers captivated, ensuring they read on, navigate around your website and are attracted to your business enough to make contact with you or visit your website again.
Hayley will always greet you with a warm, enthusiastic smile and outside of working hours she enjoys keeping busy, enjoying her friends and her beloved Labradoodle Stanley.  When she needs to switch off from the hustle and bustle, you will either find her in the gym sauna or enjoying a bubble bath and catching up on podcasts. If you ever need to 'butter her up', pizza or chocolate should do the trick!
Hayley's quickfire questions
What's your job in a nutshell?
I produce new and engaging website and blog content for our clients.
Tell me some of the most important things about your job role. What do you need to be good at?
It is important that I maintain a high attention to detail when writing content on behalf of the clients. It is essential that my spelling and grammar is perfect and each piece of writing targeted to the client's audience.
Give me two or three pieces of wisdom about your role. What is particularly important?
Make sure you engage the audience by staying informative and writing with a purpose each time. My content can't afford to be bland or repetitive as I will lose the reader's interest.
Make sure you understand your topic. This sounds straightforward but its importance can't be overstated. My content has to be accurate and an authentic representation of our client's business or industry.
How did you get into your industry? What interests you about it?
I got into the industry through recommendation. Being able to help a company grow and reach more potential clients interests me and motivates me to get deeper into the industry.
Describe yourself in 3 words:
Creative, enthusiastic, adaptable.
Tell us something we won't know about you!
I am possibly the most dog and pizza obsessed person you will ever meet! Give me a pizza or a puppy and I will be happy as Larry!
Never have I ever…
Been swimming in the sea. My biggest fear!
Watched a superhero film.