Delivering the leads
your business needs
Arrange your free consultation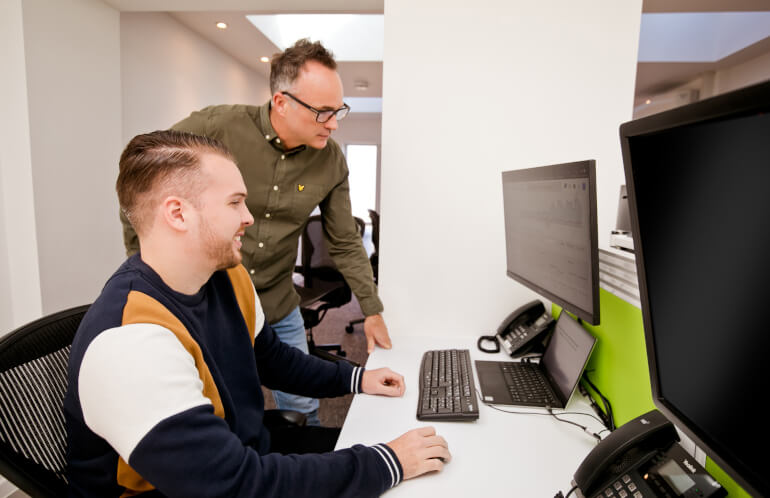 SEO agency in Croydon
Croydon has over 13,000 SME businesses.
As an example, there are an average of 480 searches for 'Electrician in Croydon' every month.
There is a huge opportunity for all types of SME businesses to grow their online presence locally with SEO. Make Me Local is an expert SEO agency in Croydon with the skills to drive results for your business by aligning your business online with the right searches.
We believe that a successful SEO strategy should pay for itself, and we're here to help your business succeed online. Our approach bypasses jargon and prioritises results, making sure that our SEO knowledge and understanding of your business translate into fresh enquiries.
We work with a wide range of businesses based in areas of Croydon such as Crystal Palace, Thornton Heath, South Norwood, Kenley and Purley.
Call us on 0800 772 0022 to discover how an effective SEO strategy could take your business in Croydon to the next level.
Tell us about your business
SEO provides an opportunity to take your business to the next level – let us unlock the potential of your online audience. Call 0800 772 0022 or email hello@makemelocal.comto arrange your consultation. We are your expert SEO agency in Croydon.
Hear from our customers
We've helped a wide range of customers to boost their online presence through SEO. See what they've said about the results we've achieved and discover what we're like to work with.
SEO services in Croydon: generating results for your business
Our in-house SEO expertise connects businesses with potential customers. We will use our skills to improve the visibility of your website within search results, helping people to discover your business. Our team will act like an extension of your business, implementing an SEO strategy that aligns with your objectives and attains the leads that are needed to keep you happy and your team busy.
A professional SEO company in Croydon
that makes a difference
An effective SEO strategy could be exactly what your business in Croydon needs to grow. We'll work closely with you to understand what you want to achieve and generate a return on your investment.
The best SEO strategy for your Croydon company
The best SEO strategy for your business is the one that generates the leads you need. We understand this and know exactly how to reach your target audience. A successful approach will draw upon a range of techniques to set your business apart from the competition in Croydon.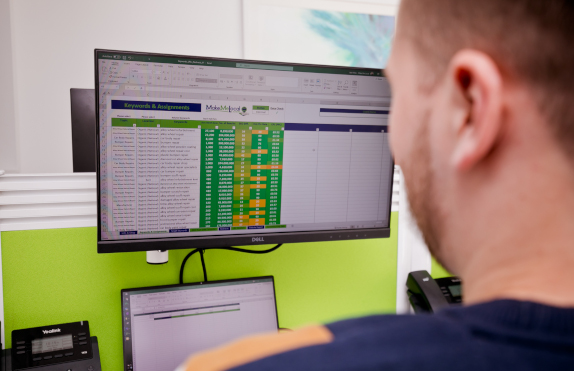 Keyword research
It's essential to understand the opportunities that are available for your business in Croydon. Knowing the intent behind the keywords that people are searching for will allow us to develop an approach that works for your business. We will determine the right keywords to target and will make sure your online presence aligns with these and appeals to Google as well as potential customers.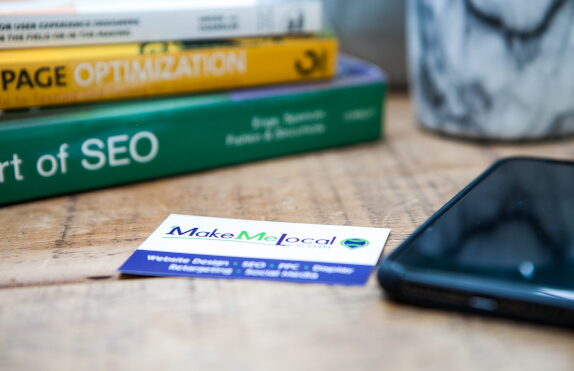 On page SEO
On page SEO covers the steps you can take to set your Croydon business apart through your website. Among these, content is key. Your website needs to demonstrate your expertise, inform your audience, and be relevant for the search enquiries you are targeting. All these objectives can be met through content that has been thoroughly researched and structured effectively. Our in-house content specialists will handle this on your behalf and, from this foundation, we will ensure the design, imagery, layout, and user experience keep people on your website. The longer they stick around, the more chances you have to convert them and the more impressive you seem to Google.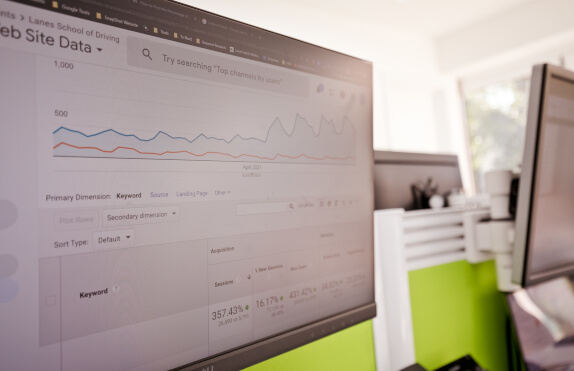 Off page SEO
On page SEO demonstrates your expertise and off page SEO builds your business's reputation. If you want to appear in search results, Google needs to be confident that you're a good source of information for its users. To do this, it's important to build up links from other websites. After all, if they're endorsing you, you must be doing something right! When well established websites are willing to link to your website, your website receives a boost and Google sees you as more trustworthy. Our expert team can handle this process on your behalf, managing the signals that your website receives from elsewhere to increase your domain authority and enhance the online presence of your Croydon business.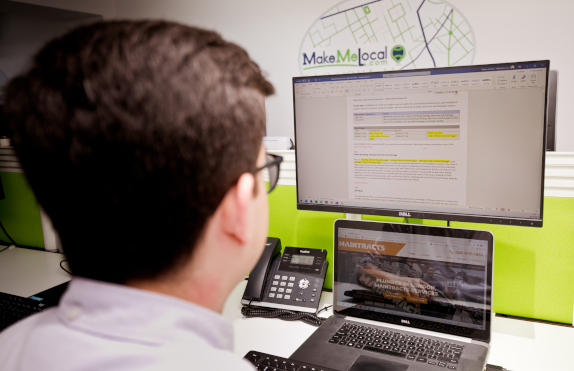 Content creation
SEO is an ongoing process – your business will always be competing to outperform competitors in Croydon on Google. Adding bespoke content to your website will allow you to target additional opportunities, reach new audiences, and establish a reputation as an authoritative source within your industry. Our team can help you with all your content-related needs, writing everything from blogs for your website through to specialist location pages that target an audience within a precise area. We can even create content that will be hosted elsewhere to help you build high-value backlinks. All the content we write for your business in Croydon will be SEO-optimised, tailored to your needs, and owned by you.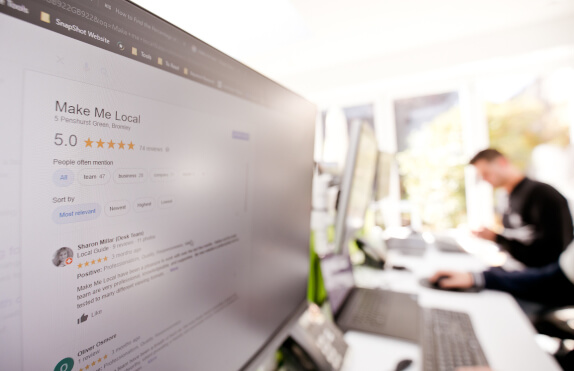 Citation building
Building a network of online citations is crucial for off page SEO. Listing your business across a wide range of online platforms and ensuring that your information is accurate and consistent across these will demonstrate that you are based in Croydon and are exactly who you say you are. This process can be time-consuming, but we can handle everything on your behalf as part of your SEO strategy. We will manage your citations so that Google continues to develop trust in your business, allowing you to reap the rewards without needing to invest time in the citation building process.
Local SEO services in Croydon
Investing in local SEO is the best way to connect with an interested audience. No matter the size of your business in Croydon, if you sell services within one or more locations you'll benefit from a local SEO strategy. By establishing an effective online presence that communicates your expertise, you'll be increasingly visible within your chosen coverage area to people searching for your services. Call 0800 772 0022 or email hello@makemelocal.com to see how an effective local SEO strategy could make a difference to your business in Croydon.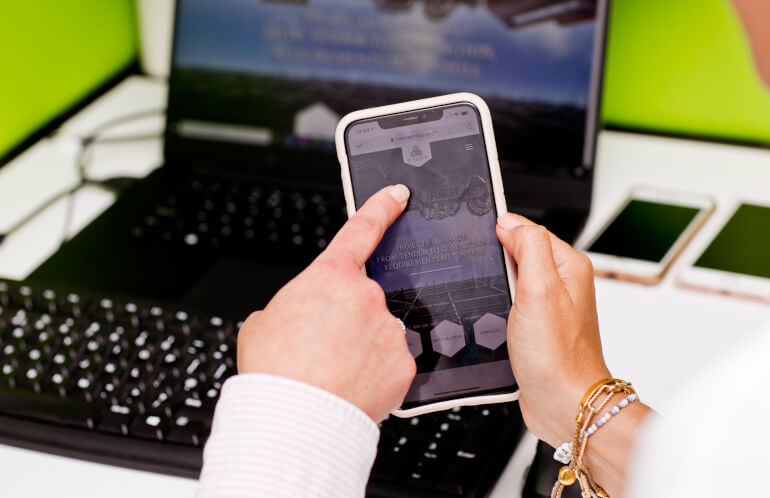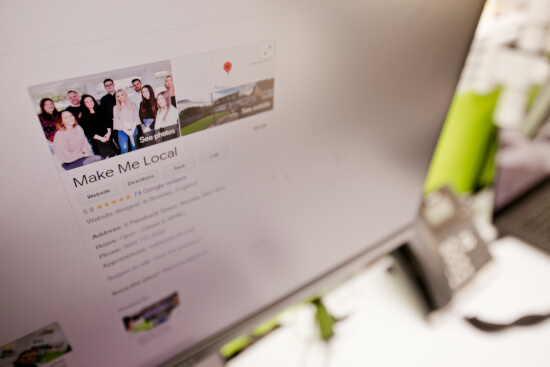 Google Business Profile SEO in Croydon
Your Google Business Profile is key to the success of your local SEO strategy, helping you to target searches that have local intent. Maintaining your profile will help you to appear within the 'map pack' for Croydon– a section that appears before organic results on Google! A well-managed Google Business Profile makes it easy to discover your business and find your contact information. We understand how to optimise your profile and will make sure it ticks all the boxes that Google needs to feel confident in the services you offer in Croydon. It's the ideal partnership – your business and our expertise.
Generate leads for your business in Croydon through SEO
SEO can be a powerful lead generation tool for your business in Croydon. Increasing the visibility of your website through your bespoke SEO strategy will make sure that your business appears when people search for your services within Croydon. The resulting traffic for your business creates lots of opportunities to convert visitors into customers, helping you to grow your customer base in Croydon. By investing in SEO, you receive traffic from an audience that is already interested in your services. This results in high-quality, relevant leads for your Croydon business.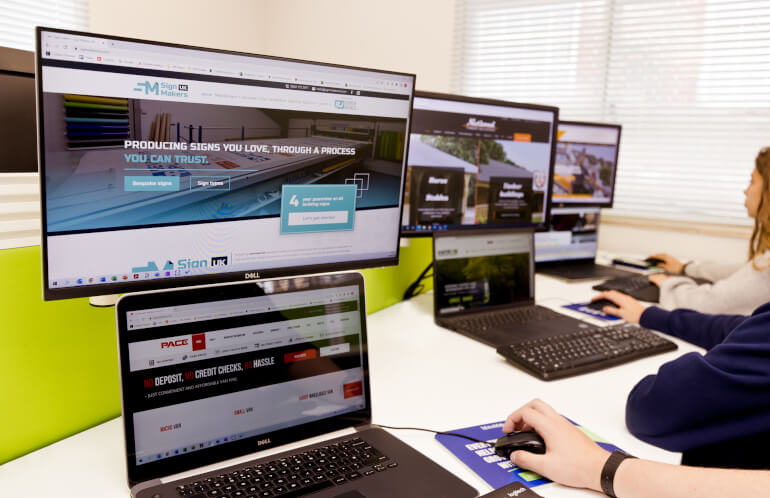 Hear from your SEO experts in Croydon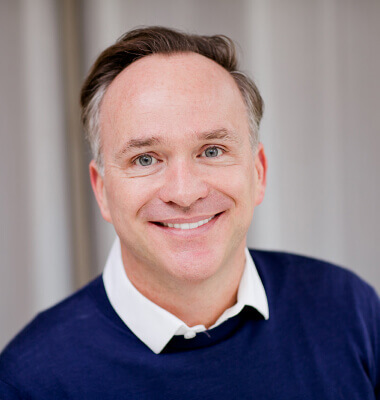 "SEO is as much about user experience as it is about optimising content for search engines. If people like your website and it is easy for them to use, then chances are Google will like it too. SEO isn't magical or mysterious – it is about making sure you have a brilliant website that ticks all the boxes."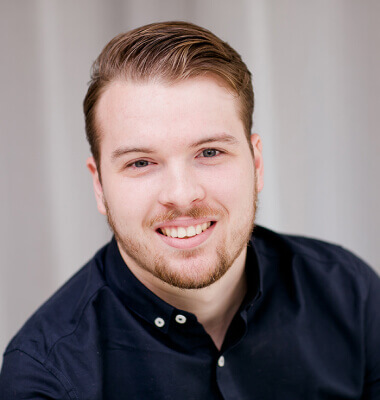 "An effective SEO campaign will ensure that the relationship between your website and Google blossoms. By establishing your relevance and expertise, we make sure that both customers and search engines trust your business and understand why you're the best choice."
Frequently asked SEO questions in Croydon
What does SEO stand for?
Search Engine Optimisation (SEO) refers to the process of improving your website so that it is more visible in search engine results. The more relevant your website is to a search query, the more likely you are to appear high up on the results page. Being easy to find will increase the traffic to your website, creating lots of opportunities to convert these visitors into customers. SEO is a complex process that encompasses the on and off page changes you can make to help search engines like Google understand your content and feel confident presenting it to others.
What does SEO cost?
There is no one-size-fits all price for SEO. The process will be tailored to your business and requirements so that you receive the exact support you need. There's no point paying for SEO if the opportunities aren't there! We will work closely with you to understand your needs and will determine how we can meet them best. We will then present you with a proposal that outlines our approach and provides a price that you can have complete confidence in. The price you're presented with is the price you'll pay – it's that simple.
Can you get me to number 1 on Google?
SEO isn't that straightforward – Google can only be influenced, it can't be controlled. For this reason, we don't guarantee that you'll appear in the first position on a results page, and we encourage you to be highly sceptical of any agency that says otherwise. We will do everything we possibly can to make your website rank highly and will never begin an SEO campaign without researching the opportunities that are available and being confident that we can get you the results you're hoping for. SEO is a difficult process, but we have achieved some spectacular results so far.
Reach your audience
Your customers are out there, but can they find you online? Talk to us about the benefits a new SEO strategy can generate for your business. Call 0800 772 0022 or email hello@makemelocal.com to see how we can help you make an impact.