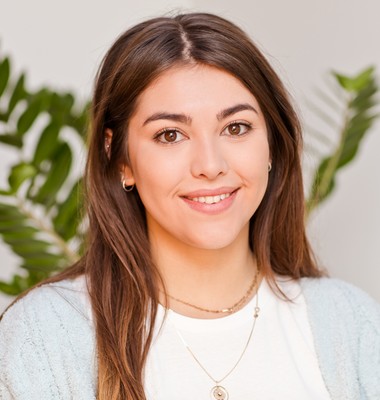 Lucy is Nathan's personal assistant, working closely with him to manage his diary effectively and ensure that his schedule balances commitments to new and existing clients. By acting as a reliable point of contact whenever people have questions about Nathan's availability, Lucy makes sure that any queries are answered promptly and gives Nathan the time he needs to focus on his other responsibilities.
Her excellent communication and organisational skills are put to good use in this role, handling the day-to-day tasks in Nathan's diary and ensuring that all our clients receive the personal, approachable service they deserve and expect from Make Me Local. Lucy likes to unwind with yoga, bringing a zen attitude and a sense of calm to everything that she does.
Lucy's quickfire questions
What's your job in a nutshell?
Nathan's right-hand man…
Tell me some of the most important things about your job role. What do you need to be good at?
I need to be organised, reliable, and communicative in order to keep on top of Nathan's busy schedule. I handle the logistics and allow him to do what he does best.
Give me two or three pieces of wisdom about your role. What is particularly important?
Keep everyone up to date – When working with busy schedules, it's important to make sure that everyone's time is being used effectively. If we're arranging a meeting, everyone involved needs to have a clear idea of what to expect and what we want to achieve.
Reach out to clients – Although emails can be convenient, sometimes you can save a lot of time by speaking to people directly! This also helps to create a solid relationship with our clients, making sure everyone understands that I'm the person to talk to when it comes to questions about Nathan's availability.
Which Make Me Local value is most applicable to your role?
'Strength through teamwork' – having a close-knit team and trusting the team's ability to work together allows for the seamless delivery of results. This makes managing each workday enjoyable and productive.
How did you get into your industry? What interests you about it?
I studied philosophy at university for 4 years – spending one of those years in Canada. So, I'd like to think I'm very thoughtful! My favourite part of my degree (other than the student nights out) was making the broad scope of philosophy interesting and accessible. When it comes to balancing a busy schedule without compromising the quality of my work, my first-class communication and organisational skills make all the difference!
I've always been interested in the creative element that feeds into digital marketing and thanks to Nathan I get to be right in the middle of an amazing team of specialists that I can learn from every day.
Describe yourself in 3 words.
Bubbly, reliable, accommodating.
Tell us something we won't know about you (or more things, if you can)!
I practice yoga every week but I'm also a black belt in mixed martial arts. So, I'm very zen but I can still kick your butt.
Never have I ever…
Broken a bone (even though I'm incredibly accident prone).