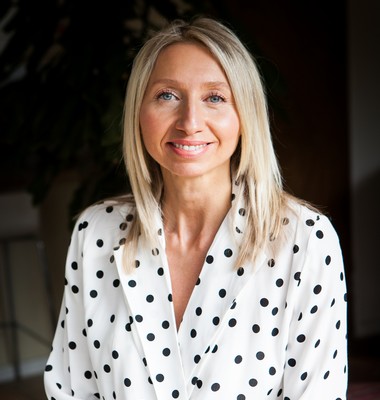 Ellie plays an important role within our team, supporting the Project team during the website design and build process and making sure that any update requests are implemented effectively. Her keen eye for detail is put to good use when reviewing new websites before they are sent to our clients for review – she helps to ensure that every element is consistent and is working correctly. Ellie previously worked as a teaching assistant at Highfield Junior School and came to work for Make Me Local when it grew faster than expected and needed an extra pair of hands.
Ellie loves being at home and enjoys spending time in her garden, as well as going out and about with Nathan, their two children and their dog Red. She would drop everything to eat at any of the Ivy Group restaurants. She also enjoys a curry (chicken shashlik with chana masala and a peshwari naan, if you were wondering) and you might bump into her if you're at Shampan Bromley. The team envy Ellie's ability to find a good bargain at a boot sale, as she usually comes home with an entire new outfit. She would love Uma Thurman to play her in a movie of her life – she thinks Uma looks great in a yellow tracksuit with a samurai sword (Ellie might be getting some ideas for her next boot sale purchases).
Ellie's quickfire questions
What's your job in a nutshell?
I support the projects team however I can, reviewing any new website builds as part of our quality control process and handling any update requests from our clients.
Tell me some of the most important things about your job role. What do you need to be good at?
Because my job role is so varied, its essential that I prioritise work effectively and can be completely flexible to our clients' requirements. I need to be open to any tasks or requests, and I need to approach all my work with the attention to detail needed to meet the highest standards.
Give me two or three pieces of wisdom about your role. What is particularly important?
Accuracy is the most important thing. The information on a website needs to be correct and up to date.
Consistency is also key. Our websites are more than just content – all the imagery needs to be relevant and appropriately placed.
Which Make Me Local value is most applicable to your role?
"Simple, authentic, effective" – the way this value informs our processes is crucial to the way I work and certainly makes my day a whole lot easier. I also believe it's why a lot of our clients choose to work with us.
How did you get into your industry? What interests you about it?
I met Nathan when I was 19 and working as a secretary. We then married and had two children. When I decided to return to work I trained as a Teaching Assistant and managed to get a job within a local school for 6 years. Then, when Nathan had the opportunity to create Make Me Local, I joined him to help with the admin side of the business.
I love the variety within the industry, as well as the opportunity to work with a close-knit team. I also try to keep an eye on new social feeds and websites to keep up to date with the latest trends and theme styles. This ensures that our websites are always taking account of any developments.
Describe yourself in 3 words.
Welcoming, energetic, lucky.
Tell us something we won't know about you (or more things, if you can)!
Every day I follow the Wim Hoff Method, which is based on a commitment to perform regular breath hold techniques and cold showers.
I eat a raw egg every day!
I was part of a relay team that completed over 20,000 burpees in 24 hours. (I managed 848 during my session).
Trying new restaurants and eating out is my favourite thing to do.
Never have I ever…
Climbed a mountain. It's on my list of things to do before I get old and achy.