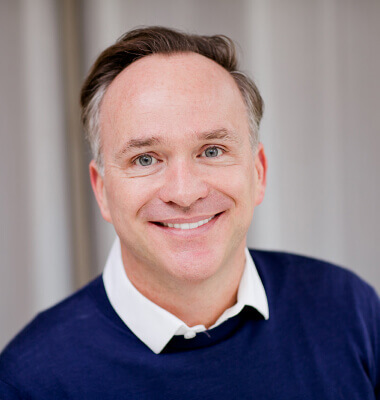 That rather large forehead comes in useful for storing all the brains behind Make Me Local. Nathan is at the helm, making sure clients have a positive experience and get what they want out of their online marketing. A lover of a good analogy, Nathan will always be happy to break things down into bitesize chunks and explain them in layman's terms.
Nathan has a background in all things digital, having previously led a successful sales team at a major internet marketing company. When he realised he could provide a better experience for his clients by doing things a little differently, he decided it was time to start his own business. Make Me Local went from strength to strength and within a matter of months, Nathan's wife Ellie also came on board to help with the workload. They've never looked back.
When Nathan isn't busy running Make Me Local (and making cups of tea for his team – an equally important job), you might bump into him enjoying an Efes Draft or two and some delicious food at Havet restaurant. He's often out and about in Bromley, spending time with Ellie, their two children and their dog Red. In fact, he's lived locally for most of his life, though he's changed a little in that time – 19-year-old Nathan sported some fetching dreadlocks.
Nathan's quickfire questions
What's your job in a nutshell?
Developing my team, facilitating discussion, encouraging feedback and ensuring clients are delighted with our work.
What do you love about working at Make Me Local?
My team and the clients who work with us. I get to spend every day surrounded by people who inspire me.
Which Make Me Local value is most applicable to your role?
Being accountable, so we can always meet our clients' needs.
Describe yourself in 3 words:
Rather large forehead
Never have I ever…
Made a false promise to a customer.