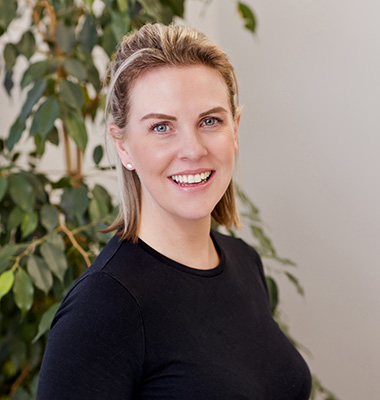 Hayley oversees the development of our website projects, managing the process from start to finish. She has the personality to build close relationships with our clients, while her organisation and communication skills enable her to meet strict deadlines. Her influence on our website projects means that every stage of the process is diligently managed, resulting in every component of the website being of the highest quality. From the sourcing of imagery to the build process, Hayley ensures that your website lives up to our high standards.
A meticulous planner, Hayley ensures that everyone is updated as a project moves forward, and she always has a solution if anything suddenly changes during the process. She is also highly skilled outside of her role at Make Me Local, being both a qualified personal trainer and make-up artist.
Hayley's quickfire questions
What's your job in a nutshell?
I lead the projects team, managing the client's journey through to the completion of their website. Having to work across multiple projects at one time, I need to ensure they are planned, managed, and co-ordinated efficiently to meet defined deadlines.
Tell me some of the most important things about your job role. What do you need to be good at?
Planning and time management are key for success, so having a thorough project plan with strict delivery deadlines in place is a must. Developing a strong relationship with clients, colleagues, and suppliers builds trust which contributes to a smooth project process. Having a systematic approach, organised nature, and communication skills are therefore important in this role.
Give me two or three pieces of wisdom about your role. What is particularly important?
Communicating with clients and colleagues is imperative. Making sure you keep all parties regularly updated on the status of a project, and informing them of any approaching deadlines, is vital.
Every client is unique and no project the same, but you can apply things you have learned to future projects. Therefore, analysing projects after launch will help add to the success of future projects.
There are many moving parts when it comes to projects. You must introduce yourself to all parties involved, make sure everyone understands their roles and responsibilities, have a rigorous plan in place which details all the deadlines, and give yourself enough time to meet these.
Be flexible and adapt accordingly – always have a strategy ready for any unexpected changes or delays.
Which Make Me Local value is most applicable to your role?
Strength through teamwork – there are so many parties involved in the project process, so success is always driven by effective teamwork. I love working with others and thrive on using my diverse skillset within a team.
How did you get into your industry? What interests you about it?
My background is mainly in paid media, working for big international clients. I entered this industry as an Office Assistant and progressed to a Project Manager and an Account Manager. I found that the task of making sure the client's creatives were placed in the correct environments, so that the right people viewed and engaged with them was very intriguing. A large chunk of my time in this industry was dedicated to digital paid media, where I learnt a lot about elements such as social media, digital display advertising, and content amplification.
I moved into the marketing industry to add another string to my bow. After working in paid media, I wanted to utilise my skills closer to the beginning of a client's journey. Ultimately, if you can crack your marketing strategy the need for investment in paid media should lessen.
Describe yourself in 3 words.
Determined, empathetic, approachable.
Tell us something we won't know about you (or more things, if you can)!
I am a non-identical twin, a qualified personal trainer and makeup artist, and have a severe crisp addiction!
Never have I ever…
Driven a go-kart, quad bike, jet ski – basically most motor vehicles. I do drive (kind of), but only faced parallel parking when I had to just so I could actually park near my house!