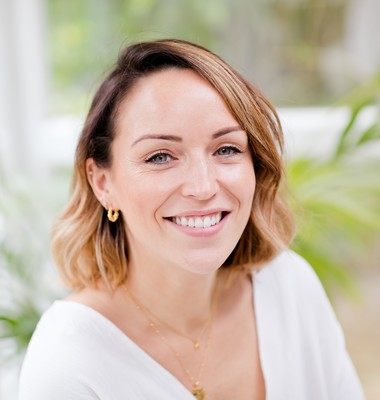 Andrea takes responsibility for the delivery of our services, making sure that the entire Make Me Local team understands our clients' requirements and objectives and is able to meet them. She also manages new website projects from start to finish, acting as the main point of contact until your website is set live. Andrea's involvement at each stage of the design and build process ensures that all our website assets perfectly complement each other – content, imagery, and design.
A lover of a to-do list, she makes sure that all our operations run smoothly. Her attention to detail ensures that each website is an authentic and eye-catching reflection of the client's business. Andrea loves to get to know people, understanding their needs and updating them of our progress.  Andrea doesn't just enjoy the challenge of building your new website – she likes a physical challenge too. She climbed Mount Kilimanjaro, and ran the Beckenham Half Marathon (some other members of the team might follow in her footsteps… maybe… possibly…)
Andrea's quickfire questions
What's your job in a nutshell?
I am responsible for the delivery of our services and the management of new website projects, making sure that our high standards are upheld, and our team members are happy, motivated, and developing within their roles.
Tell me some of the most important things about your job role. What do you need to be good at?
Communication – I need to ensure that our clients are kept informed throughout their project and answer any questions they might have. I also need to make sure the team has a full understanding of the client' requirements so that we can achieve results that exceed their expectations.
Organisation – There are a lot of moving parts within our projects that need to sync together to ensure that the finished websites are delivered on time. Our process for a new website project contains more than 100 steps, including professional photography, content creation, design, and the technical build.
Imagination – The design and content of our websites are completely bespoke. It requires a lot of attention to detail to make sure that the client's brand and personality are perfectly reflected in their new website. The seamless integration of imagery, words, and design creates the impressive results we're known for.
Give me two or three pieces of wisdom about your role. What is particularly important?
Listen and listen well. I have to fully understand the client's requirements so that the briefs I give our designers, photographers, copywriters, and development team are correct and aligned with their objectives.
Try and keep up. The digital space is constantly evolving and developing. For me this is exciting as no project is ever the same!
Be flexible. Whilst I run a tight ship on my projects and have a process to follow, I always understand that things need to adapt and change to suit the client. My focus is to ensure that a website project with us is a seamless and stress-free process for our clients and that they go live with a new website they are 100% proud of.
Which Make Me Local value is most applicable to your role?
Strength through teamwork – I am so incredibly lucky to work with such a talented (and lovely) bunch and it's because of our teamwork that the projects run so well.
How did you get into your industry? What interests you about it?
I started my career working in newspapers but then moved into magazines where I received my first experience with digital platforms. Realising that the future was online, I was lucky enough to be supported in this role whilst I completed a diploma in digital marketing to enhance my skills.
From there, I moved into the luxury hotel industry and was the digital marketing manager for Claridge's, The Berkeley, and The Connaught. I learnt so much from this role – especially the attention to detail required to make sure that the highest standards are always maintained.
I love working in the digital space because nothing stays the same. There are always developments in technology, search strategies, and design trends that need to be monitored. Plus, because digital marketing is trackable, you can't hide behind poor performance – you have to keep pushing to be the best you can be. I also really appreciate the immediacy of digital platforms, particularly after starting my career in print where lead times could be weeks or even months.
Describe yourself in 3 words.
Empathetic, loyal, friendly.
Tell us something we won't know about you (or more things, if you can)!
I climbed Kilimanjaro to raise money for Help for Heroes
I have run both the London Marathon and Beckenham half marathon (even though I hate running)
I have jumped out of a plane over the rainforest in Australia
I am brilliant at headstands and beat Nathan in a competition recently
Toast with peanut butter and marmite (has to be crunchy peanut) is my ultimate comfort food
Never have I ever…
Drank Coca Cola
Bungee jumped (I hate edges)
Enjoyed watching a horror film (it's the music that gets me)
Left home without telling my kids I love them