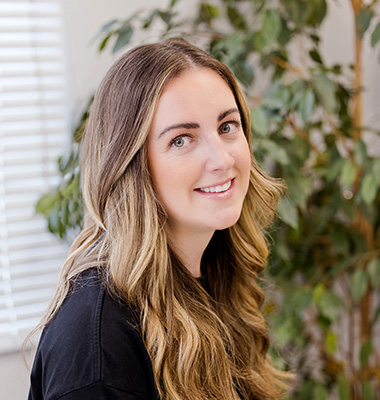 Clare is the point of contact for our clients, taking responsibility for their experience and ongoing needs once their website is live. She'll work closely with you to understand your business and objectives, ensuring that our services are aligned with your requirements. As your account manager, Clare will work closely with you and will build an effective relationship so that you always feel comfortable approaching us with any questions or requests. A key aspect of Clare's role is providing the exceptional service our clients deserve.
Clare has a unique connection to Make Me Local. We first met her as one of our clients and, when the opportunity arose, were excited to welcome her into our team. Knowing that she shares our values and has experienced the service we offer first-hand makes her the ideal fit for her role.
Clare's quickfire questions
What's your job in a nutshell?
I am the point of contact for our clients once their websites are live, making sure that all their ongoing needs are met. I need to build strong relationships with our clients so that I understand their objectives and can make sure we are meeting them.
Tell me some of the most important things about your job role. What do you need to be good at?
Listening – I have to fully understand the client's business and their needs.
Relationship-building – I have to ensure clients feel comfortable speaking to me and making requests.
Organisation – I have to be fully prepared with all the information needed to make the right decision for a client.
Give me two or three pieces of wisdom about your role. What is particularly important?
Listen to understand. You need to be sure that you've understood the client's requirements and will be able to deliver the results they need.
Check your understanding. There's nothing wrong with asking for clarification. Being confident that you understand lets you be efficient and avoids mistakes.
Which Make Me Local value is most applicable to your role?
"Always accountable" – My role involves building strong, trusting relationships with clients so that I know exactly what they want and need. I have to take full responsibility for providing the exceptional customer service they deserve.
How did you get into your industry? What interests you about it?
After running my own business for 7 years, I felt that I was ready for a new challenge. I enjoyed building trusting relationships with stakeholders and wanted to apply my skills to a new industry. Digital marketing particularly appealed to me because it's an ever-growing, changing industry with plenty of opportunities to learn and develop.
Describe yourself in 3 words.
Thoughtful, outgoing, positive.
Tell us something we won't know about you (or more things, if you can)!
I'm a qualified gym instructor and nail technician.
I have run two London half marathons.
I have a slight trainer addiction.
I love coffee and am rarely seen without one in my hand.
Never have I ever…
Been skiing. I'd love to though!