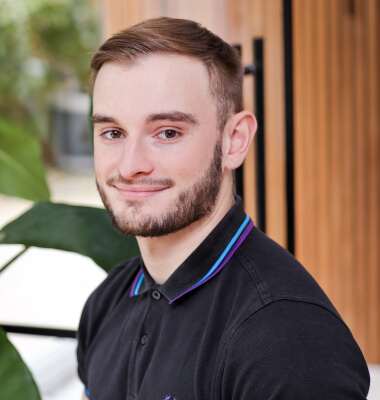 Andy writes content for our clients' websites. He will be in our content capture meetings, asking you about the details and behind-the-scenes aspects of your business so that he can write about it confidently and creatively. Andy provides a wide range of creative content, letting his understanding of your business shine through within your blogs and producing informative, engaging written pieces that will convince customers that your business is the right choice for their needs.
Andy has been passionate about writing since he was at school, and his degree in Politics and International Relations helped him develop this passion into a top-quality skill. During his free time, Andy can normally be found outdoors or partaking in sport of some kind – at the gym or on the golf course, you name it! Andy loves being surrounded by friends and working in a team, which is what makes him such a valuable member of ours.
Andy's quickfire questions
What's your job in a nutshell?
I'm here to provide our clients with the highest quality written content for their website. I want to ensure that when a potential customer comes across their site, they understand exactly the service that is being offered and how it can benefit them. I also want to engage the customer in what they are reading and encourage them to take action as a result.
Tell me some of the most important things about your job role. What do you need to be good at?
It's essential for me to get to know our clients and their business, so I can provide exactly what they are looking for in their website content. Once I understand their needs, I can deliver a message to their potential customers that underlines all the great things about their business and demonstrates what sets them apart from their competitors.
Give me two or three pieces of wisdom about your role. What is particularly important?
Take the time to understand exactly what the client wants from their website. This is the best way to make sure they're over the moon with the content they receive.
Do as much research as possible on the business you are working with. Knowing the ins and outs of their business will ensure you cover all the most important aspects in your website content.
Which Make Me Local value is most applicable to your role?
I'm particularly motivated by our focus on results; I get great satisfaction from seeing that my written content has helped a client to reach more customers and grow their business.
How did you get into your industry? What interests you about it?
I loved writing whilst at school, and my favourite topic to write about was always sport. Going to university and studying towards a degree that involved a lot of writing helped me realise that it was something that I really enjoyed and could pursue as a career. I find the research aspect particularly interesting, as finding out more about different businesses is intriguing and helps me to produce better content.
Describe yourself in 3 words.
Reliable, friendly, positive.
Tell us something we won't know about you (or more things, if you can)
I enjoy fishing in my spare time, and my record fish is 15lbs. I once fell face first into the lake which was not an enjoyable experience in the middle of winter!
Never have I ever…
Been to Australia! It's definitely on my to do list.