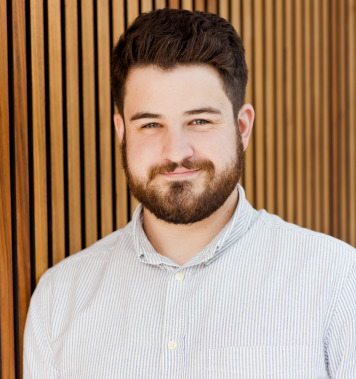 Matthew writes for your websites, producing all manner of content according to your requirements. He'll take the time to get to know you and your business to determine exactly what you want and need from our services. Combining his copywriting knowledge with the resources here at Make Me Local, he produces engaging and clear copy that makes your website stand out for its quality and effectiveness. With the right words in the right order, Matthew's work can keep your customers captivated and have them returning to easily navigate through your site.
Matthew studied English Literature and History at university and has had a lifelong fascination with reading and writing. Outside of work you can usually find him with his nose in a book, often accompanied by his dog Robbie. Otherwise, he fills his time by watching films, going to gigs, and camping.
Matthew's Quickfire Questions
What's your job in a nutshell?
I produce written content that is tailored to a client's need for their website. In particular, I must ensure I strike the right balance between informative and engaging with every line.
Tell me some of the most important things about your job role. What do you need to be good at?
Being focused and detail-oriented are key. It's essential that I'm able to keep multiple tasks and projects on track whilst also ensuring the finer details like spelling and grammar are perfect.
Give me two or three pieces of wisdom about your role. What is particularly important?
Understanding a client's needs and requirements and being able to balance them with what I know makes for good, effective copy is vital. Our work is only valuable if it accurately represents a client's business, but equally we must ensure it can reach a wide audience and be as effective as possible.
The importance of good spelling, grammar, and punctuation can't be overstated.
Which Make Me Local value is most applicable to your role?
Simple, authentic, effective – This principle speaks to me particularly. It forms a guideline for good content: simple to engage a wide audience, authentic to properly represent the client, and effective in that it provides clear and concise information for the audience.
How did you get into your industry? What interests you about it?
I've always had an interest in writing and being able to make a career out of it seemed like a win-win. After I graduated university, I was struggling to find work that would utilise the skills I built during my degree. It seemed like a perfect fit when I was offered a job at Make Me Local. I can use my existing abilities while also building knowledge and expertise in a new environment.
Describe yourself in 3 words.
Conscientious, imaginative, reliable.
Tell us something we won't know about you (or more things, if you can)!
I can juggle, but not very well.
Never have I ever…
Broken a bone (yet).