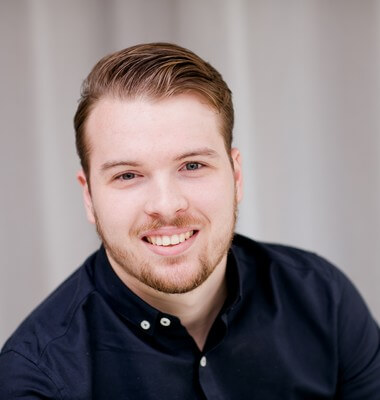 Jake will produce an SEO strategy that helps your website to organically climb up the search engine rankings. He'll spot potential opportunities to enhance your online presence, driving more visitors to your website and improving your conversion rate. By remaining on top of the latest industry developments, Jake ensures that your website is optimised for search engines and ready to achieve the results you need.
He loves working closely with clients, getting to know their businesses, and helping them to achieve their goals. Jake is a man of many talents – outside of work you'll find him training at 2BX boxing club to stay active.
Jake's quickfire questions
What's your job in a nutshell?
I help businesses to optimise their websites for search engines such as Google, allowing them to increase the number of visitors they receive and improve their conversion rate.
Tell me some of the most important things about your job role. What do you need to be good at?
As an SEO Executive I have to maintain a high level of attention to detail in order to spot opportunities where a website's organic ranking can be increased.
Give me two or three pieces of wisdom about your role. What is particularly important?
The way websites are looked at by search engines is continuously changing. However, it is always important to have a website that loads quickly and delivers a great user experience across all devices.
Which Make Me Local value is most applicable to your role?
Results, results, results. It's my responsibility to develop an SEO strategy that helps your website to climb search engine rankings organically.
How did you get into your industry? What interests you about it?
After starting my A Levels and finding that they weren't the right fit for my future goals, I decided to enrol on an apprenticeship in Digital Marketing instead. This turned out to be an excellent decision as it allowed me to discover a passion and interest for websites and search engine optimisation.
Search engine optimisation offers businesses a huge opportunity to present their website to people who are actively looking for their products and services.
Describe yourself in 3 words.
Cheeky, personable, reliable.
Tell us something we won't know about you (or more things, if you can)!
I am a huge UFC fan. Whenever there's a big fight, I will often stay up until 6am to be able to watch it live.
Never have I ever…
Had a cup of tea.