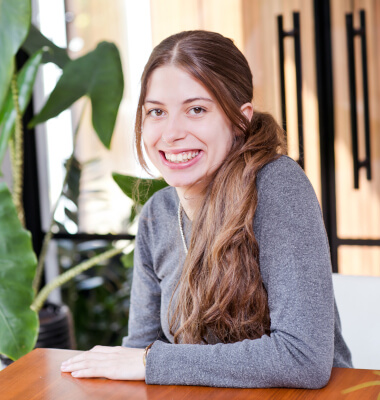 Cerys has a highly specialised role within our content team, producing location-specific content for our SEO clients. These pages are designed to reach an audience within a precise geographical area, demonstrating that our clients are the best choice locally for the services they provide. Cerys will use her knowledge of your business to create pages of unique content that set you apart from the competition and appeal to both customers and search engines. Her content plays an important strategic role and is highly engaging, page after page.
Outside of work, Cerys is a keen football fan and proud supporter of Sutton United F.C. She has a long-standing connection to the club through her family and loves to watch them play. Sutton's rivalry with Bromley F.C. is a frequent topic of conversation within the office, but Cerys is confident that she's on the right side!
Cerys's quickfire questions
What's your job in a nutshell?
I create unique, location-specific content for your website. This lets you reach an audience within a precise area.
Tell me some of the most important things about your job role. What do you need to be good at?
In my job role it is important that I make sure all our location pages are unique. Even though the same services are available throughout a client's coverage area, Google expects every page to be full of fresh content. This requires plenty of creativity to achieve on a consistent basis.
Give me two or three pieces of wisdom about your role. What is particularly important?
Be patient – don't let big batches of location pages stress you out!
Be persistent – attention to detail is key when working on lots of closely related pages.
Which Make Me Local value is most applicable to your role?
Results-driven success. Location pages are a vital element of our clients' SEO strategies, so my work is key to delivering the results that they need from their websites.
How did you get into your industry? What interests you about it?
Although I haven't been to university, I have always loved English and the written word, and I have a love for reading. During the Covid-19 lockdown I struggled to find suitable work until I was offered this role within the Make Me Local team. It's the perfect fit for my interests and lets me use my creative skills in a way that genuinely benefits the local businesses we work with.
Describe yourself in 3 words.
Ambitious, resourceful, creative.
Tell us something we won't know about you (or more things, if you can)!
At one point in time, I was the fastest girl in Bromley across 100m!
Never have I ever…
Done a cartwheel (I blame my long legs).