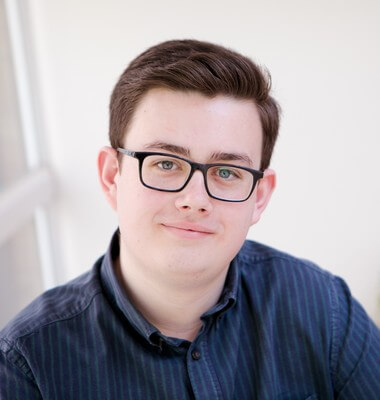 William is responsible for content delivery across our website projects, making sure that our team of copywriters are on track and that all website content meets our standards. He's the person tasked with understanding your business so that we can represent you accurately and authentically. You'll meet him at your content capture meeting where he'll be asking as many questions as possible to make sure he's on the right track.
He loves talking about all things English-related and he has a particular interest in spelling (yes, he knows how strange that is). Before joining the team at Make Me Local he indulged these interests by studying historical linguistics and, if given the opportunity, he can chat about the history of English for ages. Don't worry though, he knows not everybody is quite as interested so he won't bring the topic up unless asked. Outside of working hours he'll probably be tucked away with a book someplace quiet or out and about with his dog, Eric. Writing this description has made him realise that he needs more varied interests.
William's quickfire questions
What's your job in a nutshell?
I write words that do what you need them to do. I also make sure that the content produced by our team of copywriters is delivered on time and in line with our standards.
Tell me some of the most important things about your job role. What do you need to be good at?
I need to understand how to tailor my writing for each client so that I can represent them properly. The last thing I want is for my work to seem generic.
I also need to be able to support our content team, making sure that they have the information they need to write effective content, the opportunity to work with a wide range of different clients, and a reliable point of contact for any questions they may have.
Give me two or three pieces of wisdom about your role. What is particularly important?
Make sure you know your audience. Even the best piece of writing in the world needs people who want to read it.
Once you're sure people will be interested, make sure they'll be able to find your work easily.
What do you love about working at Make Me Local?
I love working alongside such a supportive team, it makes coming into work so much more rewarding.
Which Make Me Local value is most applicable to your role?
Being accountable. I'm responsible for content delivery so I need to make sure all our clients are happy with the work we produce.
How did you get into your industry? What interests you about it?
I studied English and then linguistics, so I knew that I wanted to work in a field that combined my interest in writing with the opportunity to use my analytical skills. Working as a copywriter where I have to balance the needs of users and search engines gives me the chance to do exactly that.
Describe yourself in 3 words:
Major word nerd.
Tell us something we won't know about you!
As a student I had to sit multiple six-hour exams. It was terrible and occasionally I still think about them.
Never have I ever…
Enjoyed this question!