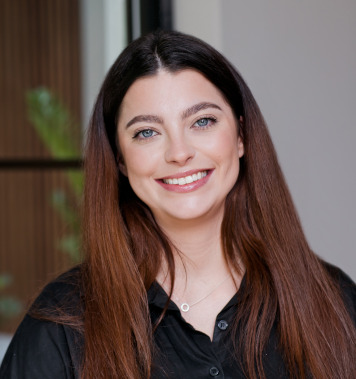 Eloise is part of our social media team and ensures that our clients have an active, effective online presence. As well as making sure that your profiles reflect your business perfectly, she keeps your target audience engaged and helps you to build a successful online marketing strategy. She'll spend her time researching your business and industry so that her posts are informative and authoritative, setting you apart from the competition.
Eloise loves playing a role in your business's success, finding it extremely rewarding to help companies make the most of social media and their online presence.
Eloise's quickfire questions
What's your job in a nutshell?
I act as the face and voice of a client's brand, managing all community communications whilst keeping their online network alive.
Tell me some of the most important things about your job role. What do you need to be good at?
It's important for me to know our client's target audience and understand how to effectively engage with them online. This allows me to build meaningful relationships with our client's community in a professional, personable, and timely manner.
Give me two or three pieces of wisdom about your role. What is particularly important?
Communication is key! Whether I'm working with the rest of the content marketing team or the client themselves, it's extremely important that we regularly communicate so that our approach is seamless. Researching the client's business and their industry is also fundamental and ensures that all my work is completed to the highest standard.
Which Make Me Local value is most applicable to your role?
Ensuring the service I provide is simple, authentic, and effective so that it has a positive impact on the client's online presence.
How did you get into your industry? What interests you about it?
I went to the University of Brighton to study Business Management with Marketing in 2015 after enjoying the subject so much in sixth form. From this, I knew I wanted to pursue a career in digital/social media marketing. I love how rewarding and exciting the industry is. Being a part of the success of a business is a great feeling that never gets old!
Describe yourself in 3 words.
Thoughtful, creative, ambitious.
Tell us something we won't know about you (or more things, if you can)!
When I was 8, I won a Jacqueline Wilson competition to design a cake around the theme of her new book 'Best Friends'. The prize was to have the design made into a real cake along with a set of signed Jacqueline Wilson books and lots of goodies to help me plan a sleepover with my best friends!
Never have I ever…
Watched the Lord of the Rings, Star Wars, or Star Trek films and it will probably stay that way!