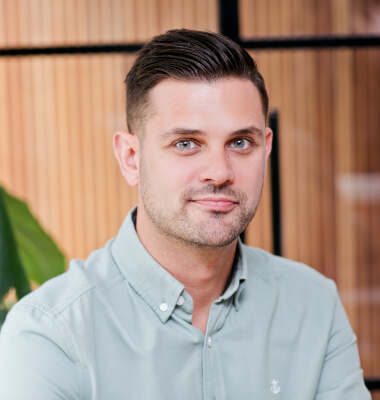 Lee is responsible for looking after our clients, making sure that all their requirements are handled effectively and that our services are aligned with their objectives. By building relationships with our clients, Lee ensures that they have a clear point of contact and can approach us with any questions or requests. As part of this role, Lee also makes sure that our updates process runs smoothly. This ensures that, once a website has been set live, it is still supported with excellent customer service.
He is an excellent listener and problem-solver, taking the time to fully understand a client's needs so that he can propose and implement the right solution. A perfect weekend for Lee would consist of a good steak, a glass of red wine and time out and about with his wife and two daughters. He also has an adorable miniature dachshund called Toby. When you make Lee a cup of tea, please remember the milk goes in last and it must be continually stirred. The team have learnt this the hard way.
Lee's quickfire questions
What's your job in a nutshell?
I form strong relationships with our clients, ensuring that their ongoing needs are met and the work that we do for them matches their objectives. I also make sure that the updates process is efficient and effective so that our clients are never dissatisfied with our service.
Tell me some of the most important things about your job role. What do you need to be good at?
Listening – I need to make sure that we fully hear and understand the requirements of our clients, ensuring that we are compassionate and empathetic to their situation.
Problem-solving – I need to find solutions to problems and be prepared to push back if we don't think a clients' suggestion is the right approach – using evidence to present an alternate way to achieve their objective.
Organisation – I need to be organised and to structure my time effectively. This is so important when looking after the needs of so many clients across such a varied range of industries.
Building relationships – I need to be able to form strong relationships and build up trust with our clients, making sure they feel comfortable approaching Make Me Local when they need us.
Give me two or three pieces of wisdom about your role. What is particularly important?
Listen to understand and check your understanding. That way you can be sure that you have understood their needs and are able to deliver what they want.
Don't be afraid to ask for clarification. It's much more efficient and effective to get a full understanding than to guess and risk getting things wrong.
Which Make Me Local value is most applicable to your role?
"Always accountable" – Our clients trust us to do what they need in a timely manner and to meet their expectations. It is our obligation to not break that trust and to take ownership of our tasks.
How did you get into your industry? What interests you about it?
I was working within a marketing department earlier in my career and was drawn to a new role at the design agency we worked with on our projects. I joined their team as an Account Manager, and it was at this point that I discovered my passion for building relationships and delivering results. A happy client brings incredible job satisfaction!
Describe yourself in 3 words.
Approachable, dependable, patient.
Tell us something we won't know about you (or more things, if you can)!
I hate coriander with a passion and feel almost as strongly about cinnamon.
My dream is to cage dive with great white sharks.
I have been knocked unconscious 5 times. All whilst being sober.
I firmly believe toast goes with any food or condiment.
Never have I ever…
Managed to hit a golf drive in the desired direction.