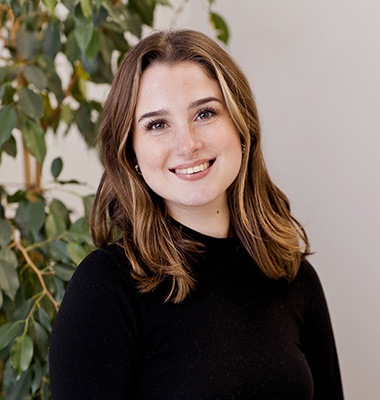 India writes content that will engage potential customers and present your business in the best possible way. She'll spend her time researching your business and its target market to ensure that she can produce engaging content to pique the interest of potential customers.
She studied English and Creative Writing at university and is a keen writer in her spare time, updating her blog with reviews of books and films she has recently read and watched. She even writes stories of her own, so has plenty of expertise in all types of writing.
India's quickfire questions
What's your job in a nutshell?
I create written content of the highest standard for our clients' websites. Representing a client's brand accurately and imaginatively is so important in setting it apart from the competition, so making the content interesting and easy to read is something I place emphasis on.
Tell me some of the most important things about your job role. What do you need to be good at?
Making sure I know everything about the client's requirements is the most important thing – this allows me to portray them in the best way possible. Adapting my work to every client means that their bespoke website sings louder than different ones in the same field. This means that they can generate more business!
Give me two or three pieces of wisdom about your role. What is particularly important?
Making sure everything I write is meticulously researched and written in an interesting way.
Presenting information creatively is what brings my work to a higher standard.
Which Make Me Local value is most applicable to your role?
Quality customer service is a key part of my role. Making sure that my clients are happy with the words I write for them is important to me as it helps me to learn and improve my work.
How did you get into your industry? What interests you about it?
I went to the University of Plymouth where I studied English and Creative Writing and refined my writing skills to be able to adapt to different styles of writing. During the COVID-19 pandemic I found freelance writing work which helped me to further develop my skills, representing brands and writing using different tones of voice. This then led me to Make Me Local!
Describe yourself in 3 words.
Empathetic, imaginative, determined.
Tell us something we won't know about you (or more things, if you can)
I was in The Royal Ballet School and participated in multiple productions.
I have unsettling confidence around power tools – I'll just pick one up and start using it.
Never have I ever…
Eaten pumpkin
Broken a bone
Successfully kept a plant alive (although two are going strong right now so I shouldn't jinx it).