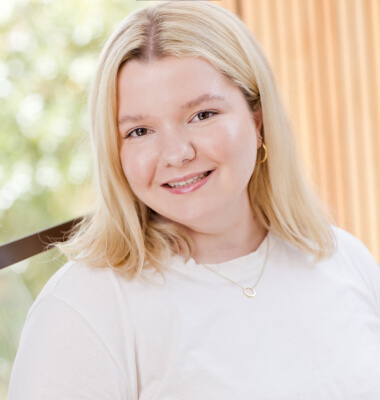 Amelia is part of our social media team, working with clients to ensure that their online profiles successfully engage their target audiences. By researching your business, Amelia will make sure that your social media posts are accurate and informative, establishing you as experts within your industry. Her attention to detail and interest in the latest developments within the social media space will ensure that your online marketing strategy is implemented effectively.
Amelia loves supporting our clients and meeting their online requirements. She'll help you to thrive on social media and set yourself apart from the competition.
Amelia's quickfire questions
What's your job in a nutshell?
I work closely with clients to create exciting content for their online network while also managing their online communities.
Tell me some of the most important things about your job role. What do you need to be good at?
It's important to research my clients thoroughly before I start making content. This ensures that everything is relevant and suitable for their audience.
Give me two or three pieces of wisdom about your role. What is particularly important?
Be consistent – working to a consistent, on-brand theme is important when creating social media content. We want our feeds to be engaging and high-quality.
Be organised – this is super important. We need to ensure that we are staying on top of our calendars and, in turn, making sure all our content is going out on time.
Which Make Me Local value is most applicable to your role?
Strength through teamwork – the social media team work hard at being a strong unit who support each other, which then results in high-quality content being produced for all our clients.
How did you get into your industry? What interests you about it?
I completed a module at university on social media techniques and learnt about marketing your content specifically for different businesses. My interest grew so much so that I decided to pursue it as a career.
Describe yourself in 3 words.
Easy-going, friendly, inventive.
Tell us something we won't know about you (or more things, if you can)!
I used to play the flute in an orchestra and even travelled to China on tour. I went to Shanghai and Beijing.
Never have I ever…
Watched Game of Thrones!