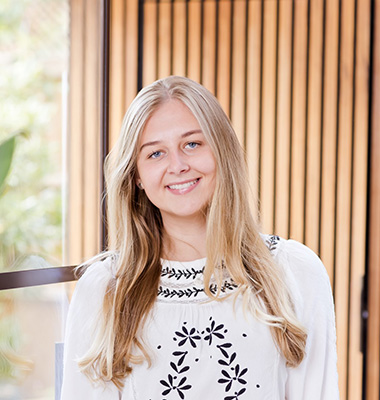 Amy is part of our social media team. She works closely with our clients to ensure that they have an effective social media presence that represents their business effectively and helps them to achieve their objectives. By implementing the right social media strategy, Amy will reach your audience and set you apart from the competition. Plus, to make sure that all the content used across your profiles is informative and able to establish your expertise, she'll spend time researching your business and industry.
Amy is particularly interested in the fast pace of developments in the social media industry. She finds it extremely rewarding to follow the latest trends and find ways that her creativity can help our clients to thrive.
Amy's quickfire questions
What's your job in a nutshell?
I work with our clients to build an engaging and creative online presence, implementing an effective social media strategy that achieves their objectives.
Tell me some of the most important things about your job role. What do you need to be good at?
I need to be able to adapt to different industries and target audiences. Understanding clients' business objectives and their audience means I can create appropriate and engaging content which is tailored specifically to their needs.
Give me two or three pieces of wisdom about your role. What is particularly important?
Be proactive. Social media platforms constantly change the way they order and display content. To be seen you have to understand how to work with the newest algorithm.
Do your research. As well as understanding social media, you need to understand your client and their business! If you don't, you won't be able to represent them authentically.
Which Make Me Local value is most applicable to your role?
Results-driven success – Trends and data are key when creating content for social media. If something thrives online, it pays to use the same strategies to create similar posts.
How did you get into your industry? What interests you about it?
I studied Media at the University of Kent and loved every assignment, especially my final project on social media success. I knew it was exactly the industry I wanted to go into. The industry is changing all the time and it's always rewarding when your creativity leads to success for a client's business.
Describe yourself in 3 words.
Passionate, caring, creative.
Tell us something we won't know about you (or more things, if you can)!
I used to swim competitively for 6 years. I've competed in both County and Regional levels.
Never have I ever…
Drank tea or coffee.