That's right, Google's had a changeup. Towards the end of 2021, Google rebranded its local listing platform Google My Business (GMB) to Google Business Profile. It's not just a name change either, there are some significant improvements to how you will manage your Google Business Profile going forward.  It's not the first time Google has made changes to its local listing functionality, in fact, it's been slowly evolving since Google rolled out its first local listing product in 2005 .
So, what exactly has changed and what is new?
Well, the new name "Google Business Profile" is more fitting to Google's efforts in bringing more of the business profile management out of the Google My Business app (that currently exists) and directly into Google Search and Google Maps.  Sometime in 2022 we could see the Google My Business app retire altogether.
The change will encourage businesses to manage their listings directly on Google Search or Google Maps, either via the web interface or mobile apps.  It's true that for several months now Google has allowed businesses to edit their business listing information directly from its search results or directly from Google Maps. However, now Google is saying it prefers you to verify your business (if it's a single listing) or resolve other issues with their business profile directly in Search or Maps too, rather than in the old Google My Business web console.
What will happen to the existing Google My Business website?  It seems it will likely transition to mainly support larger businesses with more than one location and will be renamed "Business Profile Manager".  So, if you manage multiple locations for your business, you will still continue to use an interface like Google My Business, renamed to Business Profile Manager going forward, but keep abreast of changes to the Business Profile Manager as time progresses.
How do I manage and edit my Google Business Profile in Search?
Now that Google wants you to manage your business listing in Search rather than through the Google My Business console you may be wondering how you can now make changes to your profile to help Google (and customers) find your business easier?  Follow these simple steps…
Make sure you are logged into the Google Account used to manage your Google Business Profile.
Search for your business name on Google. You can also search 'my business' on Google Search to get to your Business Profile.

From here you will be able to edit information that people see when they search for your business: address, opening hours, photos, products, and Google Posts.

Over the next few months, all businesses who create a Business Profile on Google will be allowed to complete their setup directly on Google Search and Google Maps.
Why should you use Google Business Profile in your SEO Strategy?
Your Business Profile on Google helps you maintain local results, which show up in a number of ways in Maps and Search. These results are tailored to particular geographic areas and help users to find nearby businesses. Learn more about how Google ranks local results.
Google Business Profile is a key to your SEO strategy especially if you are trying to target a search with local intent. When a search with local intent is identified the 'Map Pack' snippet will be shown: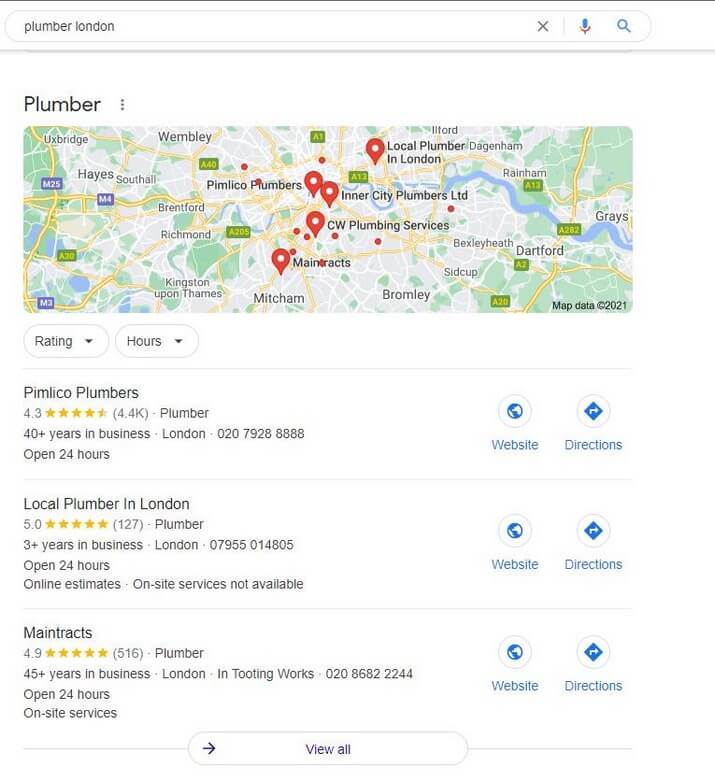 The map pack will show after the Adverts in SERPs but most importantly before organic search results. However, you will not stand a chance of appearing on the Google's Map Pack if your business is not listed on Google in the first place.
If you are reading this and have not heard of Google's local listing platform (Google Business Profile) before or you just haven't got round to listing your business on Google, utilising your free Google Listing will help your local business show up on Google's search results when customers search for terms related to your business. Your Google Business Profile will display all your important company information as well as a direct link to your website. You can add photos of your products and services, post updates and customers can use it as a platform to write reviews about your local business for others to see.
How to optimise your Google Business Profile?
Once your business is verified and listed, it is important to optimise your profile effectively, for Google to find you relevant enough to display high up in its search results when customers are searching for the products and services you offer. Here are a few tips on what you should be including in your business profile:
Add a logo and cover photo. Choose your cover photo wisely as this appears when somebody searches for your business by its name. The cover photo should represent your business and its services.

Make sure all your business information is correct (name, phone number, address, opening hours and website address), how are potential customers going to contact you otherwise?

List your business in the correct and related categories. List in as many categories as you can.
Add a description to the Google Business Profile.
Add a founded date to the listing as this is added as a justification in your listing.

Add all your services to your listing in the Services section:

List your all your products. If you do not have products, you can list your services here again.

Use Google Posts like a Facebook/Twitter/Instagram. Posting regularly to keep your Google Business Profile up to date which Google will love. It shows Google that your content is current, consistent, and reassures it that you know what you are talking about and enjoy engaging with your audience.

Just be sure to keep Google Posts Relevant to your business as these are also used for justification:


Request reviews to your Google Business Profile A whopping 72% of local consumers read reviews before taking any online action so the more you have the more assured that potential customers will feel about acting with your business. Hearing directly from other people that have used your products and services is a powerful trust magnet. Reviews are not just important for customers they are important to your Google Business Profiles visibility too as customers can review directly from the Google Business Profile Dashboard:

Why not email customers after they have used your business to request a review? When you receive one, be sure to respond to reviews. Again, Google will love that you engage with and value your customers. Plus, above all else, it's courteous and that customer will love you even more for it!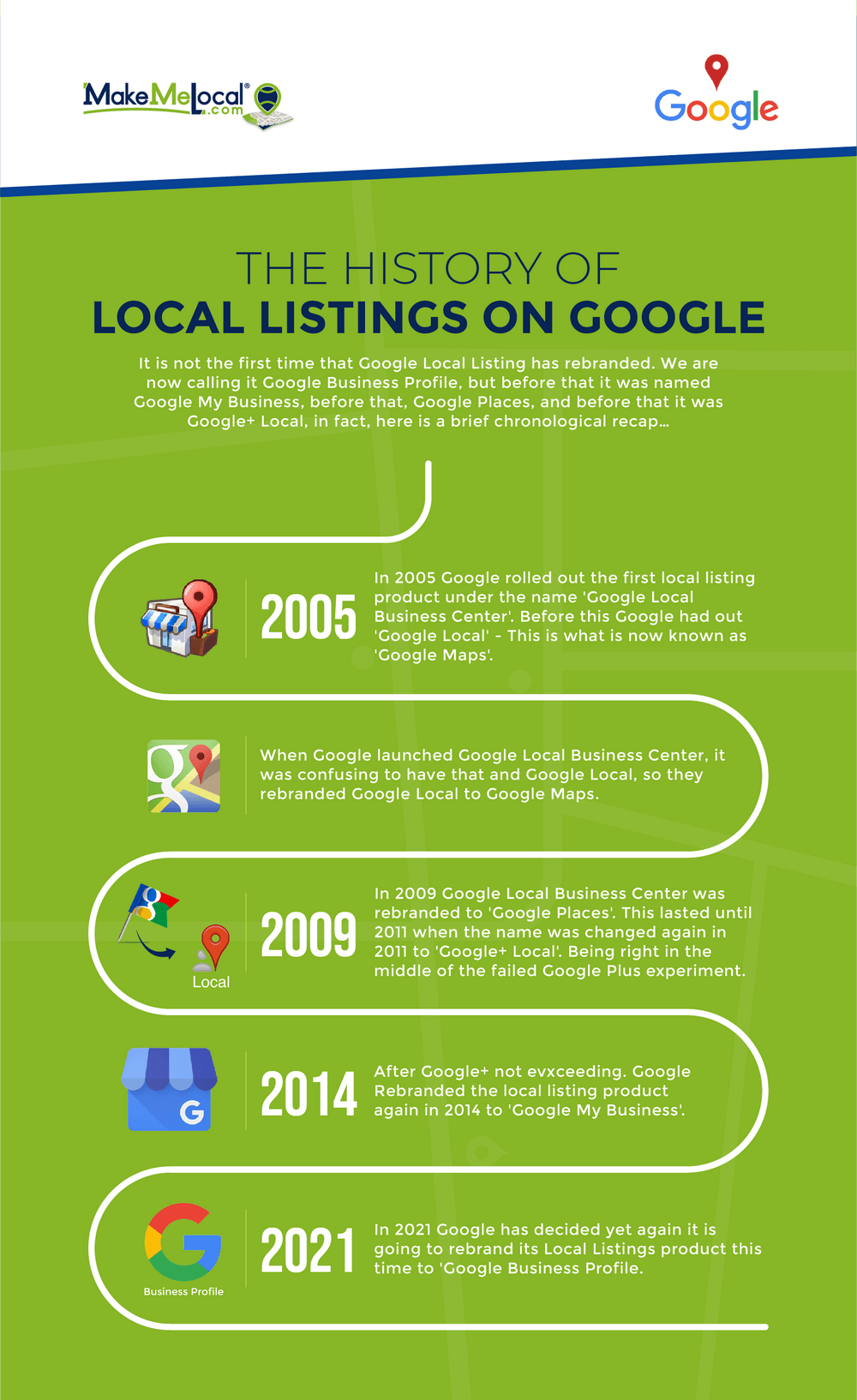 As SEO nerds, we are always excited to see what Google is going to do next, but we do appreciate that if you are new to the SEO game it can be a tricky topic to digest. If you would like some further clarity or have any questions relating to any aspect of digital marketing, we would love to chat things through.