Now more than ever, is the time to ensure that the internet tells your story accurately. One of the best ways to do this, is by building up a wealth of unbiased, honest opinions from your most reliable resources (your customers) and displaying them online. The power of online reviews is well evidenced.
This blog aims to explain:
The importance of inviting customers to review your business online
How to request online reviews with our review request template
Why are online reviews important?
Online reviews are incredibly powerful in building you a strong reputation, but don't just take our word for it.  One survey showed as much as 7% of a website's ranking factor can be attributed to online reviews.  Google will trust your site more, and so will people:
72%
of local consumers read reviews before taking an online action.
(How Reviews Affect Purchasing Decisions and SEO – mytestimonialengine.com, 2018)
73%
of consumers trust a local business more if it has positive reviews.
(Local Consumer Review Survey – brightlocal.com, 2017)
85%
of consumers trust online reviews as much as a personal recommendation.
(Local Consumer Review Survey – brightlocal.com, 2017)
93%
of local consumers use reviews to make decisions about a business.
(Local Consumer Review Survey – brightlocal.com, 2017)
It is important that reviews are the right type, seen in the right places, and that there is enough of them to ensure people have the right information they need to make an informed decision about your business.  It's not as simple as manually adding a couple of reviews to your website as and when they come in from your customers.   First-party reviews (reviews published on a company's website, by that company) may be seen as biased, as the business could choose to omit negative reviews, or even make them up.  However, third-party reviews (reviews controlled by an external organisation, often published on third-party platforms like Yell, TripAdvisor, Checkatrade or Google) are generally deemed more trustworthy because they are collected without bias.
Reluctant to ask your customers for Google reviews?
Don't be.  Many businesses tell us that they feel awkward asking for Google reviews because they don't want to nag a busy business owner but, it does pay to prompt customers a little.  Research shows that 68% of people left reviews for local business when asked – it isn't the asking that prevents people from leaving review, it's merely that people leave busy lives, they forget.  That's why, it is a good idea to invite customers to review.  Don't let the risk of a bad review put you off either.  There are lots of positive opportunities to be had from a bad review and it is often possible to turn a negative review into a positive, and even benefit your business.
How to request Google reviews?
Step 1
In your chosen internet browser head to business.google.com if you're not already logged into your account you will need to log in to the account that you use to manage your google business profile.

Step 2
Navigating in your google business profile manager account to the google business profile that you'd like to manage.

Step 3
With the new update to Google Business Profile this will take you to Google Search. You will see the new Google Business Profile editing panel.

In the panel find the 'Get more reviews' card and click this.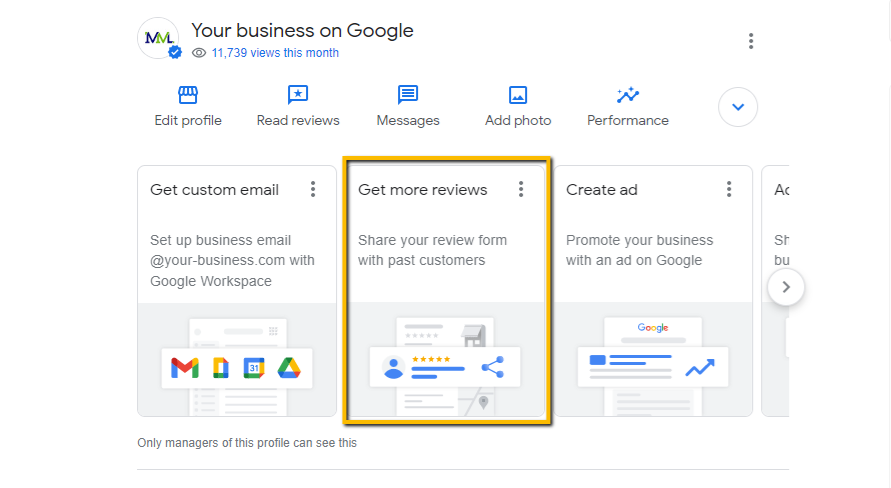 Step 4
Click to copy the link that is provided.

Step 5
It is important to explain the importance of a review to the customer to help them understand the impact it can have for you.  Below, is the email template that we use at Make Me Local for our review requests on GBP.  We get a 50% conversion rate using this template, so we know it works, we hope you can get the same results…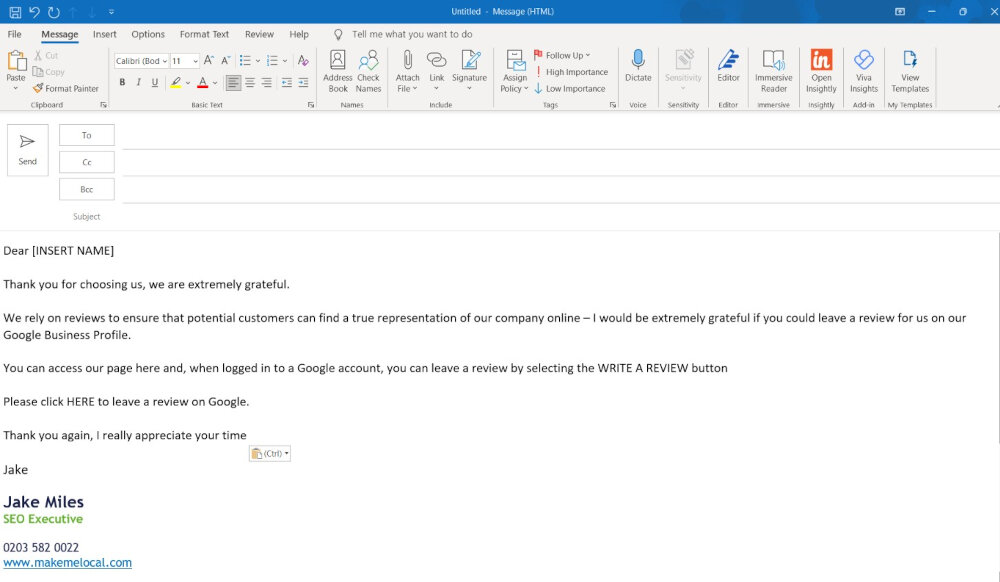 Template for online review requests:
Dear [INSERT NAME]
Thank you for choosing us, we are extremely grateful.
We rely on reviews to ensure that potential customers can find a true representation of our company online – I would be extremely grateful if you could leave a review for us on our Google Business Profile.
You can access our page here and, when logged in to a Google account, you can leave a review by selecting the WRITE A REVIEW button
Please click HERE to leave a review on Google.
Thank you again, I really appreciate your time
It's as simple as that! 
If you have under 40 transactions a month, this should be a manageable exercise for your business to run itself.  However, if you feel that you won't be able to handle the volume of requests you would need to send a month then you may want to look at our reputation management service.
We hope that you have found this blog helpful for requesting online reviews and the importance of updating the information on your GBP page.  If you need any clarification (or help) we are always at the end of the phone to help and support, simply drop us a line on mailto:hello@makemelocal.com.