If you have seen a drop in sales over the last few months, you will undoubtedly be working super hard to get your business back on track.  Your marketing strategy will play a key role in spreading the word about your products or services so, we thought we would share a few tactics you can easily implement within your marketing plans to help promote your business locally.  Even if your business is booming right now, you will need to ensure you stay ahead of your competitors to secure future success.
Utilise your free Google listing
Gone are the days that small businesses rely solely on word of mouth and a few print mailings to bring in new customers.  Nowadays, it is a pretty sure bet that customers will use Google to find you.  In fact, a recent local consumer review survey carried out by BrightLocal identified that in 2019, 90% of consumers searched the internet to find a local business.  Plus, online reviews continue to be very influential on the purchasing decisions of consumers.
For these reasons, getting your local business listed on Google should be at the top of your priority list.  By doing so, you will show up on Google's search results when customers search for terms related to your business.
Your Google My Business listing will display all your important company information such as contact details, opening hours, directions, and a direct link to your website.  You will also be able to post updates to showcase what's new with you and add photos so customers can get a better understanding of your product or service, the way you operate, and what makes your business special.  Customers will be able to add photos too which helps build trust with new customers who maybe researching you.  Customers can also write reviews about your local business for other people to see – another trust magnet for new customers.
If you have already listed your business on Google, be sure to keep the information as up to date as possible, particularly around business hours and business updates, so customers are always informed about what you are up to and when they can contact you.
Give back to your community
Giving back to your local community is a great way to promote your business and get the word out about your products or services.  More than that though, being part of, and investing in your local community is an opportunity to give back to those who have helped support your business throughout its journey.
Local volunteer groups and non-profit organisations do so much within our communities, but they cannot do it alone – support from local business is vital for their survival.  In return for your support, your business will enjoy intangible benefits (such as the pleasure of giving and helping others), as well as a few tangible benefits that may serve as good publicity for you.  Charities and non-profit organisations are only too happy to recognise donors by thanking them on their social media, website, and published literature.
Many businesses commit to giving regular donations to a charity within their community – something they feel passionately about and want to be associated with.  If you are a charitable business, don't be shy about your involvement.  Customers will want to hear about how your local business supports charitable causes and it is very common for customers to consider switching brands if it means supporting one associated with a charitable cause.  Customers are likely to have a more positive image of your local business if you support a charity they care about, which will in turn, help you and your business become closer to your community.
Partnering with a charity to sponsor an event is great exposure for your business, plus you will enjoy the added bonus of a networking opportunity.  In addition to gaining customers, you may have the opportunity to meet other businesspeople, and develop relationships with complementary businesses. You can use your website, social media, and email footers as a platform to mention the charities you support and give them exposure in return. 
There are many other ways for your business to support the community that involves more than just donating to a charity:
Offer your business services, when relevant, at a local event.
Give a talk at a local school on careers day or at a local community group.
Donate a product/service as a prize for a local event/raffle.
Sponsor a youth sports team.
Show your support to those in your community that need it – we saw lots of amazing examples of this during the coronavirus lockdown period with many businesses offering discounts for NHS/Keyworkers or opening at certain times especially for them. We saw restaurants offering free meals and drinks to keyworkers, offering free delivery, and generally going above and beyond.  As a result, customers are likely to have remained loyal (or even switched) to these businesses post lockdown and beyond.
Blog regularly
Those of you that know us well, will know we are big advocates of blogging.  Creating great content and adding to your site regularly really will get more people visiting your website for you to convert.  With a few simple marketing tactics you will be able to promote your blog within your community and will contribute to achieving the increased exposure that your business desires.
Increase your social media presence
Getting busy on social will naturally get the community talking about your business and its personality.  Social media is a great way of showing customers (rather than just telling them) what your business is all about; not just what you do but it will give customers an insight into the personalities of you and your team, you can show your fun and social side off on social channels and really integrate your business within your community.
We would recommend giving your Facebook page, and its reach and engagement with followers, a boost. Why not invite your friends and followers to like your page?  You can do this very easily by following the few steps below:
Go to your Facebook page
Click on 'Community'
Click on 'See all friends'
Select all the friends that have not yet 'liked' your Facebook page and then click on 'send invitations'.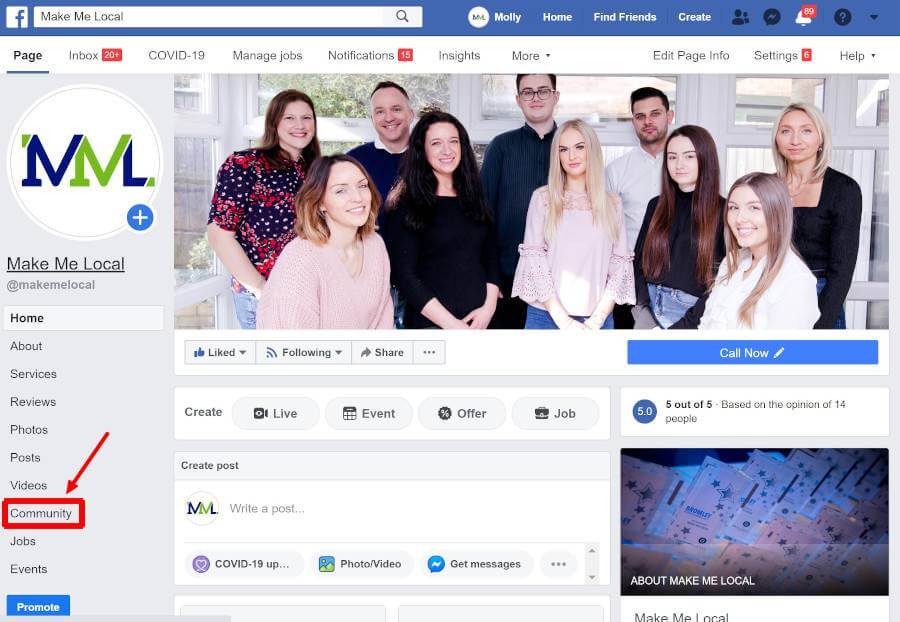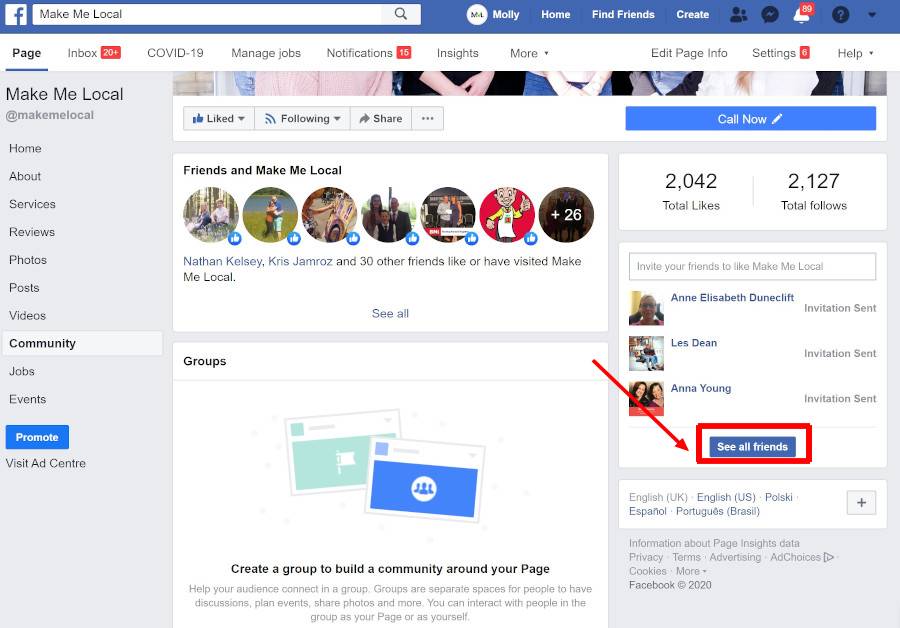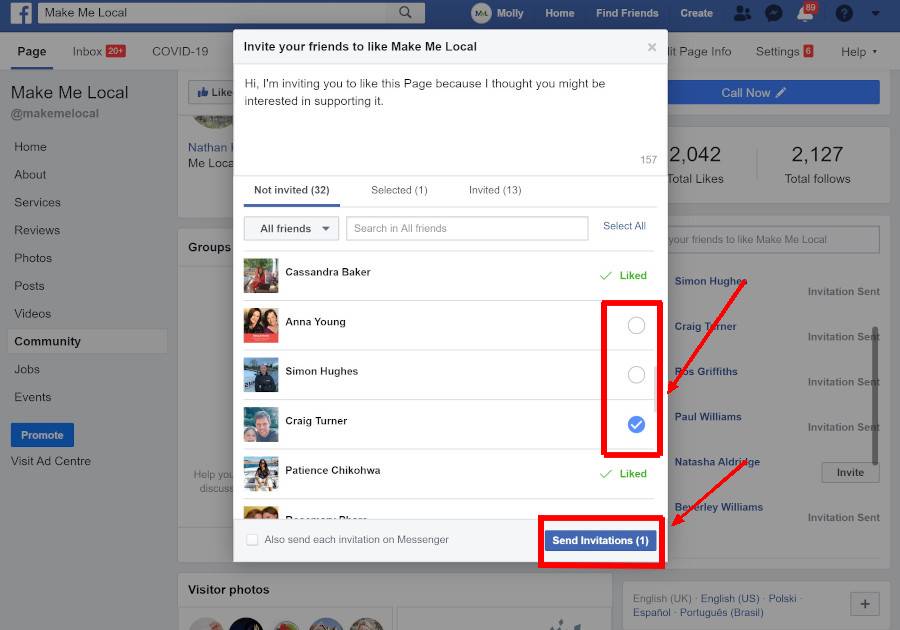 Easy peasy!  If those friends accept your invitation and 'like' your Facebook page, you will have gained more followers, likely within a broader reach, and will now also be seen by all the friends of those followers when they engage with your posts.
Don't forget, there are also lots of online communities out there that you can get involved with too.  Niche forums and Facebook groups are easy to join and are a great way to get integrated and join in the local discussion.  You will be able to add value to your community where appropriate and when needed.
Set up Google Alerts
Google Alerts are a way of keeping track on what is being said about your business online.  Reports will be emailed to you anytime your business or other keywords you have requested are published on the Internet.   You will be able to stay on top of the latest news, whether it's positive or negative.  For example, if someone writes and publishes an article online that is unfavourable about your brand, you will be able to see it and act accordingly right away rather than finding out about it weeks later.  Likewise, if for example a local newspaper writes a positive article about your business, you can share that content on your website and your social media channels.
Google Alerts are easy to set up, be specific with the keywords you select to get alerts for though – too many may result in a lot of emails!  If you are new to Google Alerts, start with setting them up for your company name only, then you can build from there if you want to.
We hope you found these promotional tips useful and that they help you give your marketing strategy the facelift needed to get your business get back on track.  As always, the Make Me Local team are here if you need any help or advice.