Have you heard of local SEO? Do you understand its benefits and how it could enhance your business? Working in online marketing with many local businesses, we often find our clients have lots of questions about how to profit from their websites and how to attract their ideal customers in their area. To help answer some of the questions you might have about local SEO and how it can work for your business, we have put together a blog addressing some of the most important topics, with guidance from our own in-house local marketing experts.
What is

local SEO?
Local SEO is a form of search engine optimisation that targets search phrases based on location. The aim is to get Google to show your business on search engine results pages (SERPs) in response to searches that include locations near you. This will help make your business one of the go-to options for people in your area, increasing the knowledge of your business
Take this example. You run a restaurant in Bromley. You want to attract more people who are looking for a restaurant in Bromley town centre. People are using Google to search for the phrase 'restaurant in Bromley' – if your website is seen as a good match by Google, then it will show your website on SERPs. This means that people looking for restaurants in their vicinity will be able to find yours, increasing your online visibility. The closer your website is to the number 1 spot on a SERP, the more visibility you will achieve.
What kinds of businesses can

benefit from local SEO?
Businesses that have a strong local presence can really benefit from a local SEO strategy. This often includes businesses that have an actual shop, showroom or other physical premises, where your business success relies on footfall. Local SEO is also important for people who offer services in a specific area and want to be found online. For example, you might be a plumber or an electrician based in Bromley, wanting to receive enquiries for work in and around your area.
A dose of local SEO

web marketing wisdom
We know a thing or two about local SEO – you've probably noticed from our name. We have spent many years honing our knowledge when it comes to local SEO, and we know how to build websites that put businesses on the map in their local areas.
A local SEO campaign needs several stages of planning, and it doesn't happen overnight. There are various steps you need to take to help your website achieve peak local authority with Google.
Step one: understanding how to

be friends with Google
We have to let you in on a secret here – nobody really understands the exact workings of Google. If a web marketing agency tells you they do, this should immediately make you suspicious. The only people who know Google's juiciest secrets are those who work for the company.
That being said, there are many things you can do to make your website more attractive to Google, and the proof is in the pudding – we've achieved some amazing results with our Google-friendly strategies. Planning is everything. Keyword research is essential and will show you the kinds of search terms you should be targeting, by finding out what real people are searching for.
"You need to understand what people are actually looking for, in the language they use" says Jake Miles, SEO Manager at Make Me Local. "There's no point targeting a phrase that nobody is typing into Google. You need to be working with words and phrases that are relevant to your business's location, and that people actually use. Keyword research gives you all this information, so you can decide on the local phrases to target."
Step two: crafting a

sitemap that's Google friendly
Your sitemap is simply a list of the pages on your website, which Google will use to categorise your website and understand its relevance. Google will use your sitemap to crawl your website, going through your content to understand what your website is all about. This means you need to have pages on your website that cover the topics most relevant to your customers, so you can show Google what you are all about. It's important you have a sitemap that shows Google where you are based as well, so its algorithm knows to show your website to people who are searching in your area.
"Google is like a filing cabinet" says Jake. "It stores information about your website, so it can return the pages that are relevant to people's searches. You'll need to show Google what you are about and where you are based, and your site map is an excellent tool for doing this. For example, you might have a page about the different branches of your business and the locations they are based in, showing Google your locality."
Step three: writing the

right content
Content is one of the most important elements of your website. It gives your website visitors all the information they need, it shows you are an authority in your field – and it shows where you are based. If Google has you marked out as a key business in a specific area, then your business is more likely to rank for search terms that include that location.
"Your content indicates to Google, and to customers, where you work, and where your services are available" says William, Make Me Local's custodian of content. "It's important you give an accurate picture of your location in your content. You might describe the areas where you work, or you might make references to your local area in another way. There are lots of sophisticated content techniques you can use to improve local SEO."
Step four: creating a website

loved

by real, human people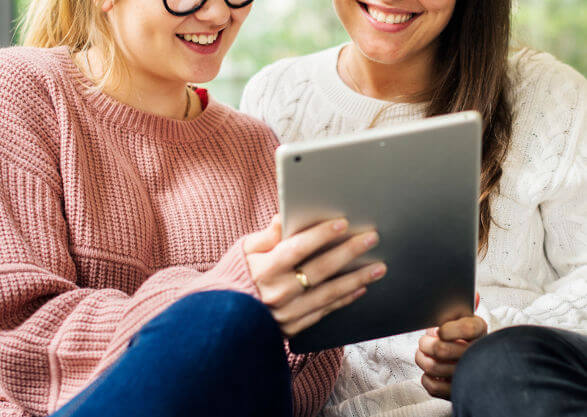 Google is clever and highly sophisticated, but you need real people to love your website as well. This is where you turn those leads into conversions. You need to think about what the people who visit your website want to find, and give them the information they need. This will all relate to your call to action – what do you want people to do? If you are local business, chances are you might want them to visit your shop, or to enquire about your services in their area. You'll need to make it easy for people to find what they need and to take the action you want them to take.
It works both ways as well. If people love your website, chances are Google will too. Websites that include good content and are easy to navigate will tend to have a higher domain authority – this is something developed by Moz and is used to predict how well a website will rank. The higher the score, the more likely it is that a website will rank.
"Always build a website for people, not search engines" says Hayley, Head of Projects and user experience expert at Make Me Local. "Make sure people can tell who you are, where you are based and what you can offer them as a local customer. If your website is relevant to customers, they will spend longer exploring it – Google's algorithms are sophisticated enough to know this."
Step five: making your website

more popular
We all want to be liked, don't we? Websites are no different. When another website links to yours, it's like a seal of approval, showing Google that your website is well liked by others. Links are one of the most important ranking factors for a website, so if you are targeting local search phrases, it's important you have local links to back up your strategy. You can tell Google where you're based, and this will be useful – but when another website does it too, it helps to make your website that bit more authoritative.
"Link building plays an important role in local SEO, showing Google that you are highly regarded by other websites" says Jake. "Links from your website are useful as well – if you link to authoritative websites in your field, it shows Google that you are aware of authoritative content in your industry. Make sure the link opens in a new window though, as you don't want to lose customers."
Step six: making sure your wider web marketing strategy is

local, too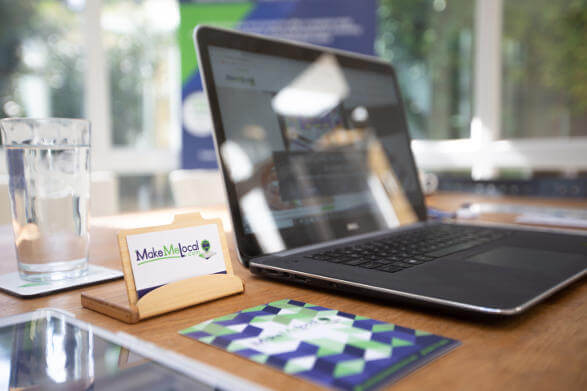 Your presence on the internet is far reaching and people can find out about you in many different ways. It's important you make sure that your online presence shows who you are and where you are based, so that your customers can find this information easily.
"Social media is important for local businesses" says Eloise Shenton, Make Me Local's social media expert. "It shows the fun, more personal side of your business. Make sure your profile is set up to show where you are based, so people in your local area can follow you, interact with you and, hopefully, become a local customer."
You should also consider:
Your Google My Business page – make sure this is accurate and shows your current location
Website updates – keep your website relevant with new content and keep track of local goings on
Reviews – see if you can get reviews from local customers, making you better known and more trustworthy.
Got your head

around local SEO?
There's a lot to take in when it comes to local SEO. And this is just an overview – every business will require a slightly different approach that is relevant to their industry and their ideal customers. Click here for an example of how our SEO work has helped a local business.
If you want to ask us anything at all about local SEO, we're just at the end of the phone. And you can always stay up-to-date with us on social media for relevant updates and more web marketing wisdom. Had a local SEO breakthrough yourself? Let us know!