Savvy businesses know that having their own business blog can help get traffic to their website.  It also helps reassure customers that a business knows what it's talking about.  Investing time in your business blog is worth it – trust us. 
If you want to give blogging a go, here are our tips on how to create a great blog that attracts customers to your website.  We'll cover:
Deciding on a blog topic
Tips on writing the actual blog
Firstly, let's just remind ourselves why business blogging is a good idea… 
Why do I need a business blog?
In short, an on-site blog provides valuable content for existing customers, gives your business content to share on social media, improves your likelihood of reaching new customers and can boost conversions.  Businesses that blog will always be more likely to acquire customers because they're creating content that helps new customers discover the website, get them engaged with their brand, and encourage them to come back to the website for more.  It's also a good way to get potential customers to further navigate around your website.
A blog also lets you target specific keyword phrases, and builds internal links to other relevant pages on your website.  If you are a window cleaning company offering a gutter cleaning service, then when spring rolls around you'll want to be focusing on promoting your gutter cleaning service as much as possible.  Some well-placed blogs on the benefits of looking after your guttering and some inspirational before and after pictures could really make a difference in your take up for that service.
How do I think up blog topics that pull in new customers?
There's nothing worse than sitting down at your computer, opening up a Word document and…nothing.  Not one single idea flashes through your brain.  Don't worry, you don't need to be J K Rowling to pull off a good read – all you need is some useful information to share.   Here are some suggestions:
Answer common questions – think about questions that your customers ask you on a regular basis. These kinds of questions might seem really simple to you – an expert in your niche – but if someone is asking them, then it means they're not the only one who doesn't know.  Let's consider our Window Cleaner again.  It's springtime and he is cleaning out a customer's guttering.  The customer notices that the window cleaner has some specialist extension poles with him and asks "how would you go about cleaning the glass roof of my conservatory?" or "How do you access the windows above a pitched roof on my single storey extension?".  It is a good idea to make a list of all the services your business offers and then think of common questions customers ask for each of them.  This will give you a great starting list of topics.
Simple Google searches – think about your target keywords. What search terms do you want to appear for on Google?  Again, make a list of all your products and services as these will likely also reflect your target keywords for example, our Window Cleaner will probably target 'window cleaner London', 'gutter cleaning', 'conservatory cleaning' etc. Type a keyword into Google search – it will bring up the most searched terms related to this keyword which will give you a list of topics to explore.

Find the questions that people are asking. People use Google as a place to ask questions, you need to find the questions that people are asking, then write a piece of content answering their questions better than anyone else has. Sometimes Google will list 'questions people ask' when answering your search:

Consider trending topics – are there any trending news stories and articles relating to your niche? If so, consider writing your opinion on them.
Don't just write about your business – It's great to talk about your products and services where relevant but you don't want to bore readers with overly promotional writing. Your blog should cover a variety of topics within your industry.  Our Window Cleaner might want to branch out and talk about different conservatory types, eco-friendly cleaning products or plants that look great on a windowsill etc.
Now you have some topics that are good to go, you'll want some advice on how to write your blog.
Here are our tips on writing an engaging blog that will entice customers to your website
Choose a captivating headline
Grabbing your reader's attention with an enticing headline is very important.  You need a headline that the reader can't help but click on to find out more.  List posts like 'Ten top tips to…' or 'Easy ways to…' are generally popular but there will be a bit of trial and error on this.  You'll need to make a note of which blogs get the most clicks and shares to decide which type of headlines your readers like.  The headline formula for this blog is quite simple 'offer + outcome' i.e. 'How to create a blog that generates traffic to your website'.
Nail the opening paragraph
Your opening paragraph should tell the reader what they will find out from reading your blog.  Keep it succinct, clear and relevant to your heading. 
The main text of your blog
Try not to waffle, stick to achieving the aim/answering the question you set out in your opening paragraph.  A big block of text with no breaks will not appeal to the short attention spans of internet users.  By splitting your blog post into manageable bite-sized chunks using headings and bullet points, you will keep readers on the page for longer.  Use relatively short paragraphs, break up the text with headings throughout, and use bullet point lists where appropriate.  These allow readers to skim the content and get the jist of what's going on if they don't have time to read the post in full, and for you to communicate key information by making it stand out.
Use visual content appropriately
Using great photos, infographics and videos in your blog is a great way to keep your readers on the page for longer.  Preferably use high quality photos of real-life projects and people as they help to build up trust in your brand.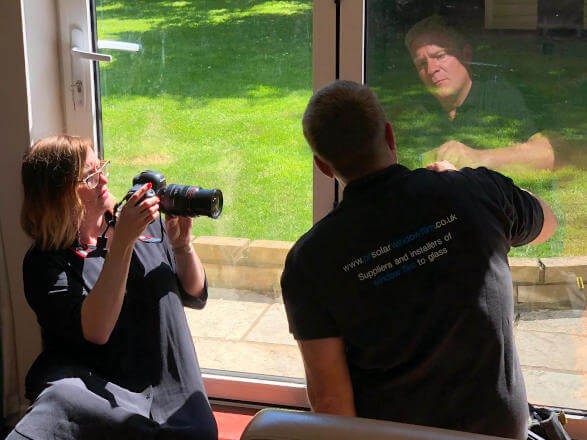 Optimising your blog content
You need to make sure your blog posts are SEO-friendly so that Google's 'bots will like them.  The best way to do this is to use keywords.  Keywords are words and phrases your audience uses to search for your product or service.  For example, if you're a double-glazing company based in Orpington and your most popular service is 'double-glazing repairs' then you might use that phrase in a blog post on "What are the most common double-glazing repairs??".  The words "double-glazing repairs", and related phrases like "damaged handles" and "cracked glass" may be included in the article so that Google is clear that this blog post is about double-glazing repairs.
You should also use keywords in your blog title and headings and subheadings – this is important as it will help boost your online visibility.  Just make sure that you use keywords naturally within your text, don't just go on using them repeatedly if they don't fit.  It's also good to try to use variations of your keyword to help your writing flow naturally.
Include some external and internal links
Using internal links means linking to other pages on your website within your blog post.  When someone is reading your blog post, your aim is to turn them into a customer, which means that you need to get hem clicking and looking around your website.  The best way to do this is to link to relevant pages for products, services, related blog posts etc.  For example, if you are writing a blog on "uPVC windows and the period home" you will at some point probably talk about uPVC sash windows – at this point you can link to the page on your website that covers 'sash windows'.  One internal link per blog is generally enough.
Use external links (to quality websites) as a way of linking to your sources.  If you are quoting a statistic, link to it.  If you are quoting someone else's opinion from a news article, link to it. Linking to your sources shows you are using credible sources and promotes trust in your business.  Just make sure you don't link to a competitor!
Call to action
When you reach the end of your blog you will need to encourage your reader to take some action.  Whether it is making them an offer they can't refuse (buy now, save 20%), asking them to sign up to a newsletter, or offering them the opportunity to chat further.  You need to encourage an action that makes your reader want to return to the website or contact your company.
How long should blog posts be?
We would recommend around 600-800 words – that's enough words to get your readers interested without taking up too much of their time, and they're more likely to finish reading the whole blog post.  Plus, it's an achievable length to write.
How often should I blog?
At least once a month.  A website that regularly adds content will stay fresh and current and interesting to readers, plus you will be opening new doors into your website for people to find you via online searches
Decide on a schedule that is achievable for you and stick to it. 
We hope this has proved helpful to those of you that want to have a go at writing a business blog.   If you don't already have a blog set up on your site or you would like some help writing and adding regular content then don't hesitate to get in touch.  Otherwise… Happy blogging!