The importance of having great content on a website is often underestimated. It's easy to think that as long as your website is accurate and lets people know about your services then it's doing its job properly. But content is such a versatile aspect of a website that there's always the potential to achieve so much more. A great copywriter can create quality content for your website that matches the interests of your audience, helps you to establish a reputation as an industry expert, and brings your business to the attention of new potential customers.
Here at Make Me Local we believe that content is the key to a great website. That's why we've put together this short guide to the benefits of investing in quality content:
IT TARGETS TOPICS RELEVANT TO YOUR BUSINESS
It's a copywriter's job to produce content that actively helps your business. This means that they need to get to know your business in order to produce content that is relevant to your industry and is tailored to meet your needs. Then, with this understanding, a copywriter will ensure that all the content on your site is serving a purpose. This could mean something as straightforward as highlighting a current trend that you want the business to benefit from, or even something more long-term like establishing a reputation for yourself. Think about it this way – If the content on your website is consistently informative and provides helpful information about your business or industry, people will find it useful. This is so important because being seen as useful will help to establish you as industry experts, will signal to potential customers and to search engines that your site is trustworthy and will convert those potential customers into customers.
IT CREATES A MORE ENGAGING EXPERIENCE FOR YOUR USERS
A great website needs to create a positive experience for its users. People aren't going to spend time on a website that is difficult to use – particularly if it means dealing with long sections of unnecessary text or hard-to-find information. Nowadays, people have higher expectations when browsing a company's website. If you're providing useful, readable information about your business that answers people's questions, then your users (and potential customers) are going to feel like visiting your site has been worthwhile. Not only does this encourage them to feel positive towards your business, it gives you the chance to capitalise on this response by promoting your business naturally within the content itself. This is a great strategy because, unlike advertising, it doesn't feel intrusive or "salesy". Instead you get to sell your business by demonstrating your expertise and industry knowledge.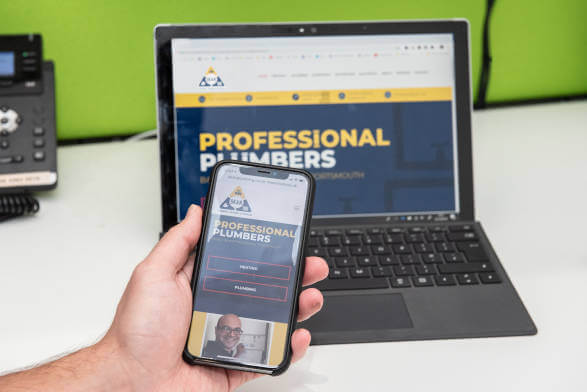 IT BRINGS YOU CLOSER TO YOUR AUDIENCE
It isn't possible to write quality content for a website without first understanding the audience of that website. This means that investing in a solid content marketing strategy is a great way to improve your understanding of the people who are using your website and are shopping for your services. This information can help your business in a number of ways; you might find for example that knowing your audience will help you to improve the services you offer. In terms of content the key takeaway is that, by understanding your audience, you'll find it easier to target their interests. Producing content that people genuinely want to read is the best way to provide value to your audience and to build their trust in your business. More trust in you, (hopefully) means more sales.
IT PUTS YOUR BUSINESS AHEAD OF THE COMPETITION
The goodwill that your website builds among customers will help to set you apart from your competitors. Having a website that's full of quality content is a major boost in terms of SEO as it signals to a search engine that your website is trustworthy and should be considered a useful source when people search for relevant topics. This is a brilliant position to be in because once a search engine understands that people enjoy using your website, it knows that it can recommend your content to its users, improving your search engine rankings and placing you higher up on results pages so that you'll literally be ahead of your competitors. But even without this assistance, having a website that places the needs of its users first is bound to help your business stand out and should ensure that customers think of your brand first in future.
IT MAKES YOUR BUSINESS MORE VISIBLE FOR POTENTIAL CUSTOMERS
Because having quality content on your website has clear benefits for users and for search engines, it helps to open your business up to the widest possible audience. The improved ranking of your website on search engine results pages (SERPs) will make it more visible to potential customers and will demonstrate that the search engine is sure that you are a relevant and trustworthy source. Even if users aren't consciously aware of this vote of confidence, because your site is both useful and useable they're likely to spend more time browsing and this should increase their chances of converting from potential customers to customers. And if they really appreciate some of the content on your website, they may even share it with people they know, further increasing the amount of attention your business receives. And as we all know (or hope), more eyes on the business means more sales.
ANY FURTHER QUESTIONS?
Hopefully, this guide has given you a quick overview of the impact that quality content can have on a website. This is an area that we really feel strongly about and we hope that you're starting to understand why! Great content can make such a difference to the success of a website and that's why we're always happy to answer any questions that you may have. If you'd like to get in touch, you can call us on 0800 772 0022 or you can email hello@makemelocal.com.