If you have some extra time to hand, you may want to use it to update your photo library with some fresh images to use across your social media channels.  Using up-to-date pictures on social media enables you to visually show your followers who you are and what you have to offer rather than just telling them – they are also great for highlighting the social side to your business and your team.
We have asked two local expert photographers, Harriet Buckingham and Kate Darkins to share their advice on how to take great photos for social media that will help you take some quality images to be proud of.  Don't worry, you don't need a fancy professional camera to reap the benefits of their advice, a smartphone will capture images good enough to post as long as you follow these tips…
Prepare for your shoot.
Pretend you have a photographer coming to do your new headshot.  Have your hair and make-up looking its best and have a few changes of outfit ready.  If you have a quarantine buddy enrol them as your photographer for the day, if not find somewhere to place your camera and get to grips with the timer.
Optimise light.
Use the light try to get the sun at a 45 angle to your face or use what we call open shade, so you are in shade but have open sky above you.
Plan what images you are going to take and where.
For example, if you are a painter and decorator and you want to get some shots of you or a team member at work, make sure you take them after any headshots or close ups (in case you get messy).  If you want to take pictures of a project you have worked on try and get the best composed picture you can.  For example, if you are a loft converter and you want to picture a recent loft conversion that you have completed, make sure you have a bright, clear day for taking pictures of the outside works and try and remove anything that may be obstructing the view of the loft (like a full washing line).  If you are capturing the inside of the project, make sure the area is showroom worthy – you don't want an unmade bed or dirty coffee cup stealing the attention from your beautifully created loft space.
The rule of thirds
The most basic of all photography rules, the rule of thirds, is all about dividing your shot into nine equal sections by a set of vertical and horizontal lines.  With the imaginary frame in place, you should place the most important part of your shot on one of the lines or where the lines meet.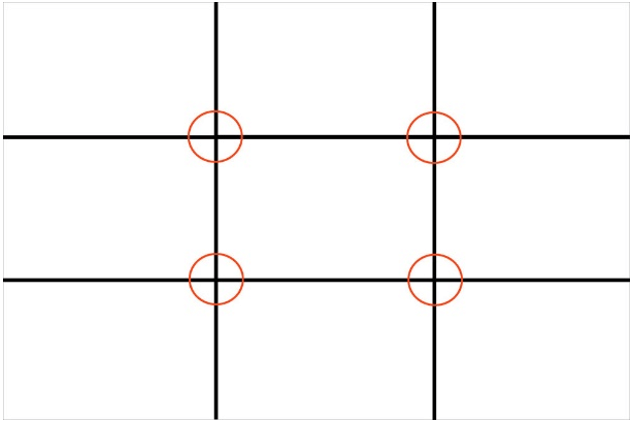 Have fun.
Nothing looks more appealing than a natural smile and laughter.  Social media is all about showing your clients the more informal, fun side of your business.  Think of unique things to photograph that you haven't shown your customers before.  Take them on a behind the scenes tour, show them where you normally hang out and have a cuppa, where the office team hangs out, where the birthday cakes are displayed.  Why not capture your typical day at work?  For example, if you make deliveries, picture yourself loading up your van for the day and then take some pictures of happy customers when you arrive at your destination.
Crop instead of zoom.
If you are using a smartphone to capture a shot, try not to use the zoom function.  Your smartphone will take pictures good enough to post but when you start zooming in, you will damage the quality of the photo.  Instead of zooming, get closer to your subject.  If that's not possible, take a picture from where you are and crop the image to your liking afterwards.  You shouldn't need to do this on your computer.  You can crop photos directly on your smartphone.
Get creative.
Don't be afraid to be quirky and use props that indicate your industry, for instance if you are a gardener, you might not want to look like you've just been dragged through your herbaceous border so look smart, but wear your gardening gloves and hold a trowel.
Give flat lay photography a try.
What is "flat lay" I hear you say?  Well, it's shooting items directly from above – usually those items will be carefully arranged or styled on a flat surface.  Natural light is your best source of light (no need for fancy lighting equipment), so try different places around your home and office until you find the place that gives you the best natural lighting (next to a big window is ideal).  Avoid dark rooms or doing your photos in the evening – these cause as unflattering shadow in your photo
You can use all sorts of backdrops for your setup, such as a nice wooden floor, worktops or just coloured card.
Move things around and experiment with your layout until you find something that you are happy with. Be creative and try layering items on top of each other.
Top flat lay tip:
If shooting for Instagram, shoot in square format (the option will be available when you take the photo) as it will make sure that the image is composed properly for the Instagram grid!
Some flay lay examples recently taken by @Kate Darkins / The Stock Stylist

We hope you have found these tips useful.  If you would like some further training on taking photos for social media using your phone, you may be interested in attending Kate's "Shoot for Social" workshops.
We look forward to seeing all your creative posts soon!