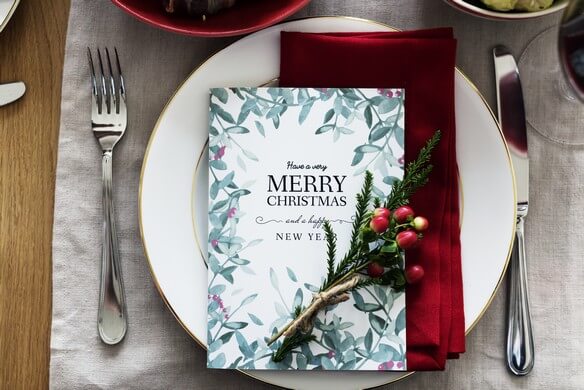 Please note that we are not affiliated with any of the restaurants mentioned here. For any queries, please get in touch with the restaurants themselves.
"What an awful time of year this is!… This means, in terms of my life, making a point of buying about six simple inexpensive presents… No doubt in terms of yours it means seeing your house given over to hoards of mannerless middle-class brats and your good food & drink vanishing into the quacking tooth-equipped jaws of their alleged parents."
Philip Larkin, letter to Judy Egerton, 1958
Ok, so Philip Larkin's summary of Christmas dinner is rather extreme, but that's not to say that feeding everyone is a simple task. If you are the chef in the family, you're probably very aware that every single person will have a different idea about what constitutes the perfect festive meal. Perhaps you've already been inundated with requests – turkey, duck, salmon, vegetarian options, gluten free vegan organic nut roasts, five different types of stuffing, smooth cranberry, lumpy cranberry, no cranberry at all… sound familiar?
Christmas food is complicated, so have you considered the option of dining out instead? There's still plenty of time to make a reservation, and you will be in good company; findings from Bookatable showed that Christmas day meal bookings rose by 241% between 2011 and 2015! Just think, you can put all the time you save to good use, grabbing a sherry (or three), having a nap, searching for the last remaining toffee finger in the Quality Street tin and bickering over prime sofa space for the Queen's speech. You'll thank yourself (and us!)
As a local digital marketing agency, places to eat in Bromley this Christmas has been a hot topic in the office. We don't want you resorting to rock, paper, scissors to decide on your Christmas dinner, so we thought we'd share some of our findings and help you locate that perfect place to dine. We've even thrown in some bonus New Year's Eve options to whet your appetite further.
Bromley Christmas day dining
Pierluigi's – 86/90 High Street, Beckenham, Kent BR3 1ED
Fancy an authentic Italian Christmas meal? Pierlugi's have got your covered. Vegetarians can select from the normal a la carte menu as well.
Prices: £105 per person for adults, £50 for children.
To book: Call 020 8663  3387 / 0061 or email
Bromley Court Hotel – Bromley Hill, Bromley BR1 4JD
Enjoy a 4-course meal in The Garden Restaurant, with a glass of bubbly thrown in. This one's great for little ones as it includes a visit from Santa and Christmas presents!
Prices: £94 per adult, £48.50 for children
To book: Call 0208 461 8600
Zi' Teresa Italian Restaurant – 141-143 Croydon Road, Beckenham BR3 3RB
Zi'Teresa covers all bases, with options ranging from your traditional turkey to Filetto Di Branzino (sea bass fillet with white wine and lemon).
Prices: £87.75 per adult, £39.75 for children under 10
To book: Call 020 8658 9117 or email
Sea Salt Seafood Restaurant – 2 Southend Road, Beckenham, Kent BR3 1SD
If seafood's on the menu this Christmas, few do it as well as Sea Salt. Choose sea bass with wilted spinach and creamy saffron sauce, or stick to a more traditional Christmas dinner with all the trimmings.
Prices: £84.95 per person for three courses
To book: Call 020 8663 0994 or email
Harpers -103 High Street, West Wickham, Kent BR4 0LT
A rich selection of Christmas favourites is on offer at Harpers, including Norfolk turkey, roast beef, monkfish tail and butternut squash wellington.
Prices: First sitting (12pm-3pm) – £79.95 per person, second sitting (4.30pm) – £89.95 per person. £39.95 for children under 10.
To book: Call 020 8777 7332
Aqua Bar And Grill – 4-6 Market Parade, East Street, Bromley BR1 1QN/ The Estate Office, Station Square, Petts Wood, Kent BR5 1LZ
Choose from a variety of options to suit all palettes, including traditional turkey, roast beef, belly of pork, saddle of lamb, roasted cod supreme and pumpkin and goats cheese ravioli.
Prices: £75 per person for three courses
To book at the Bromley restaurant: Call 020 8460 2346 or email 
To book at the Petts Wood restaurant: Call 01689 666220 or email 
Regans At The New Inn – 59 Station Approach, Bromley BR2 7EA
Regans pride themselves on an offering of fresh food and fine wine. You could be enjoying turkey, duck, lamb or a vegetarian option with them this Christmas.
Prices: £75 per person, £40 for children under ten. Three courses including tea and coffee.
To book: Call 020 8462 2865
Miller & Carter – Pickhurst Lane, West Wickham BR4 0HH
Choose one of Miller & Carter's flagship succulent steaks for Christmas, or opt for turkey, salmon or a vegetarian option. Complement your meal with fine wines, cocktails or perhaps some Champagne.
Prices: £73.95 per person for five courses, including coffee and luxury macaroons to finish. £34.95 for a children's set menu with four courses.
To book: Call 020 8462 1876 or pop into the restaurant
Cow & Pig Bromley – 39 East Street, Bromley, Kent BR1 1QQ
Cow & Pig promise customers they take Christmas very seriously. Choose from a menu of roast turkey, sirloin steak, sea bream, pork shank or mushroom risotto.
To book: Call 020 8464 8877 or email
Prices: £60 per person
The Crown Bromley Toby Carvery – 155 Bromley Common, Bromley BR2 9RJ
A good value carvery option for your Christmas dinner. Choose from roast turkey, roast beef with a beef dripping glaze, roast gammon with pomegranate glaze, roast pork with apple and sage glaze or leg of lamb with rosemary. There is also salmon supreme and two vegetarian options.
To book: 020 8460 1472
Prices: £52.99 per person, £26.49 for children under 12.
New Year's Eve dining in Bromley
Once the Christmas festivities are over and your food has fully digested, there's only one thing left on the agenda – do it all again for New Year's Eve!
Havet – 195-199 High Street, Bromley, Kent BR1 1NN
Prices: £45 per person – 8.30pm 'til late with entertainment.
To book: Call 020 8290 6717
Tugra – 4 Station Approach, Hayes, Bromley BR2 7EJ
Prices: £60 per person with live music and belly dancing
To book: Call 020 8462 9898 or email 
Indian Essence, 176-178 Pettswood, Petts Wood BR5 1LG
Prices: First sitting £38 per person, second sitting £75 per person
To book: Call 01689 838 700 or email
Cyprianis – 17 Station Square, Petts Wood BR5 1LY/ 366 Crofton Road, Orpington, Kent BR6 8NN
Prices: £75 per person for three courses and coffee
To book at the Petts Wood restaurant: Call 01689 896 899
To book at the Locksbottom restaurant: Call 01689 859 000
The Manor At Bickley – Thornet Wood Road, Bickley BR1 2LW
Prices: £85 per person for a six course taster menu or two course gala buffet
To book: Call 020 3598 9900
Heard of anything else great going on in Bromley this Christmas? Let us know!