The Make Me Local team are delighted to announce that we have been named Best SME at the Bromley Business Awards, as well as being Highly Commended for the Employer of the Year award. We are so pleased that our growth and success have been officially recognised, as we have become a highly successful, well-established SME in the Bromley business community.
What criteria did we meet?
As ever, the competition this year was tough. This was especially true of the Best SME award category, which was open to any company in the Bromley borough with a turnover of up to £15 million. The award organisers placed great emphasis on the role of SMEs within the community and their contribution towards the economy, wanting to see a company that could start up, grow, thrive and move into a position of longer-term sustainability.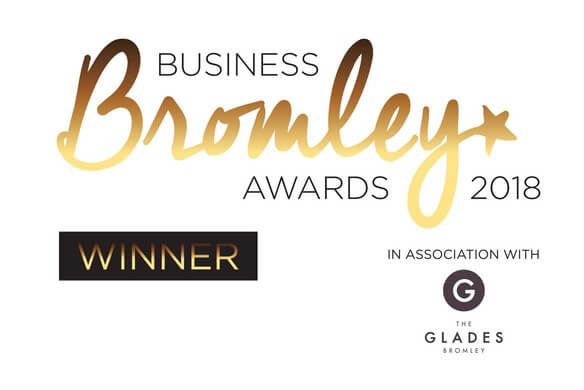 We went through a rigorous process of applications and interviews before the winner was decided. This is the criteria we had to demonstrate:
Proactive leadership and management
Robust and fully integrated sales/ operational model
Strong financial growth performance results
Significant sustained business/ market growth achievements
A clear, concise and impactful plan for sustained growth
Innovation and differentiation within the business
We are so proud that the judges had such confidence in our business and our brand-new award has taken pride of place in the office.
Celebrating Bromley
The Bromley Business Awards ceremony was a great opportunity to celebrate the borough we live in, work in and love. Local means a lot to us; we are proud to be an SME based in Bromley, as well as helping others to capitalise on their own locations and find their ideal customers. We enjoyed celebrating the borough's business achievements with all those involved.
Huge congratulations are in order for Hello Burger, who earned the prestigious title of Bromley's Best Business. We will definitely come in for a burger soon (with a side of Parmesan and rosemary fries!)
The night's other winners were:
Holwood Farm Shop – Best Café or Coffee Shop
Churchill Theatre – Best Business for Marketing and Social Media
Valentine & Turner Funeral Directors Ltd – Best Business for Customer Service
J'amies Gymnastics Academy – Entrepreneur of the Year
Make Me Local – Best SME
Shampan at the Spinning Wheel – Best Restaurant
Hello Burger – Best New Business
Threshers Day Nursery – Best Charity or Social Enterprise
Pennington Choices Surveying and Consultancy – Employer of the Year
Bromley FC – Best Business for Innovation and Growth
Well done everyone!
A major achievement for Make Me Local
Being named Best SME marks a new chapter in the Make Me Local story. We were already looking forward to 2019, and now we are even more excited to join forces with other local businesses and help them to succeed online. We have plenty of projects lined up in the New Year, including one of our biggest to date, and we are offering a brand-new service to help our clients manage their reputation online. We also have exciting plans for our own content offering, devising strategies to help businesses have a better understanding of the online world. You can keep up to date with Make Me Local on Instagram, follow us on Twitter, or like us on Facebook.
Once again, well done to everyone who was involved in the awards in any way, shape or form, and thank you for making it such a success. We will look forward to seeing you all again next year to celebrate Bromley's business achievements.