If you are a SME offering a service and you are looking to connect with people in your local area who are searching on Google for the services you offer, then you could benefit from Google's latest touch of brilliance – Local Service Ads.  The ads help web users quickly find and contact local and trustworthy professionals who are backed by Google's Guarantee.  If you are an independent professional keen to get ahead of the Google local search game, read on…
What are Google Local Service Ads?
Local Service Ads (LSAs) are a new Google ad format that are finally being rolled out in the UK after much success in the US and Canada, and we're keen to spread the word.
They are a great supplement to the local SEO strategy for specific industries and their aim is to boost the visibility of service professionals online, help them gain new customers, book more jobs and grow a trusted online reputation within their local area.
Google Local Services is its own product and sits outside of Google ads (a pay-per-click advertising platform, meaning the advertiser pays if someone clicks on the ad) and Google my Business.
How do Google Local Service Ads work?
When a searcher enters a query into Google that encompasses a service-based keyword (such as 'plumber near me'), local service ads are triggered. If your ad proves to be the best fit for a user searching for a tradesman or service provider in your area, then it will show up at the top of Google search results. A customer will not only find your service easily, but they can also contact your business directly through the ad. The best bit? Local Service Ads is a pay-per-lead advertising platform meaning that you will only part with your money if a customer actually contacts you directly through your ad (opposed to paying if they merely click on the ad).
If a searcher clicks on a local advertisers' listing, Google prompts them to confirm the job they are looking for as well as their service area. If you fit the job and serve that area, you will be matched to the searcher who will then be able to review your qualification, ratings, and Google reviews. If a searcher likes what they find, they will then be able to contact your business. If you are not a good fit for the searchers job or you do not serve their region, then Google will save you the costs and burdens by connecting the searcher to a more appropriate Local Service Ad.
Leads come into the advertiser as calls and messages sent directly through the local service ad. The advertiser can then reply to messages, track how many bookings they have. All of which can be managed either through an online portal or through an app.
Where and how do Local Services Ads appear in SERPs?
Local Service Ads typically appear at the top of Google's search results page (above traditional paid search ads and the Local 3 pack).  A searcher will see ads for several trusted professionals in their area and the ads will show a business number, opening hours, ratings, and reviews.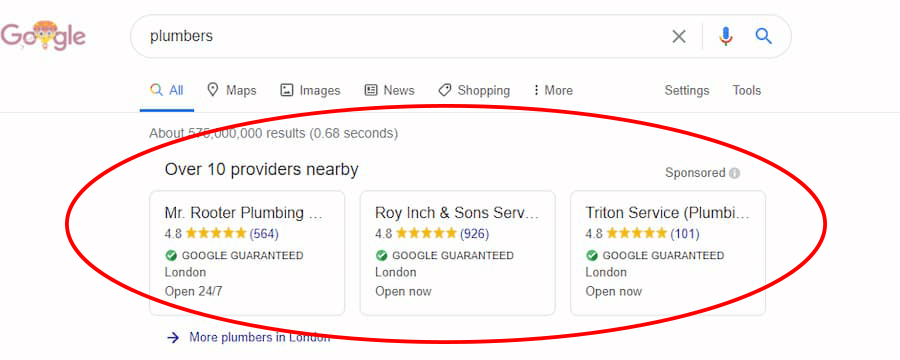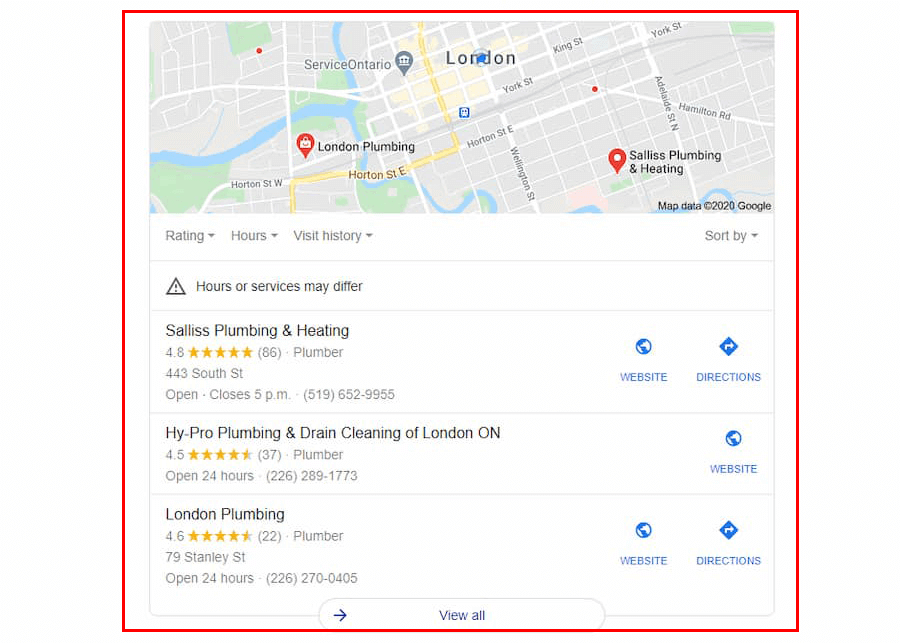 How are Local Services Ads ranked?
Unlike traditional Google ads, there are no keywords which you bid on to match your business or service. Instead Google relies on other indicators – your location and your review score being the main ones. Your review score will look at both the number of reviews you have and your average score out of 5. This is from both Google My Business and jobs you have booked through local service ads, so if you already have a strong presence through Google My Business, your business will likely have a bit of a head start.
What are the benefits of Google's Local Service Ads?
Increased local visibility and exposure for your business.
Only pay for results – you only pay when a customer contacts you directly from your ad.
Control your budget.
Gain high-quality leads and jobs – customers who search and find you on Google can contact you directly, so you can book local jobs and limit wasted time. The quality of your leads should deliver higher conversion rates.
Show up on Google's search and connect with local customers who are looking for your services.
Easy to use and flexible management platform.
Customers will have the assurance that your business carries the Google Guarantee badge.
What is the Google Guarantee?
Your business will become Google Guaranteed once you have signed up and completed the verification and screening process for Local Services Ads.  Once completed and approved, your business will earn the Google green badge of trust (recognisable as a green circle with a white tick in the middle).  The Guarantee helps you build a strong online reputation, giving potential customers assurance that you have been vetted and approved by the search engine giant, Google.  If a customer is unhappy with the quality of your work, Google may (at its sole discretion) reimburse the customer up to the amount paid for the services provided by you, up to a lifetime limit.  Services must be booked through Local Services Ads.
What industries do Google Local Service Ads serve?
We are talking:
Appliance repair services
Carpet cleaning services
Cleaning services
Electricians
Garage door services
HVAC (heating or air conditioning)
Junk removal services
Lawn care services
Removals
Pest control services
Plumbers
Roofers
Tree services
Water damage services
Window cleaning services
Window repair service
Source:  Online Ownership
How do I get started on Google Local Service Ads?
It's easy. Simply visit Google Local Services Ads and click on 'Get Started'. You will be guided through the five-step process:
Telling Google about your business – where you're located, what services you offer and setting your budget so that Google can show your ads to the right customers at the right time.
Becoming a Google Guaranteed provider – Google will ask you to provide some information so it can ensure your business meets local licence and insurance requirements. Once verified you will earn your green tick badge.
Becoming visible – once your business is verified, Google will start showing your ads to customers in your area looking for your services.
Start filling your calendar with jobs – once customers start to see your ad, they can contact you directly via your ad. You choose what jobs you want to take and track your appointments.
Maintain your ads and grow your business – use the dashboard or mobile app to update or pause ads, optimise your account, and adjust your budget to continue growing your business.
This new Google ad format could provide you with the boost you need to get your business back on track and booming. Google's Local Service Ads go one step further to ensure they are connecting searchers to the right advertiser and will really help take your local visibility up a gear. For further information or advice don't hesitate to give us a call.