Stunning
Website Design, for
Surrey Based Businesses
Arrange your free consultation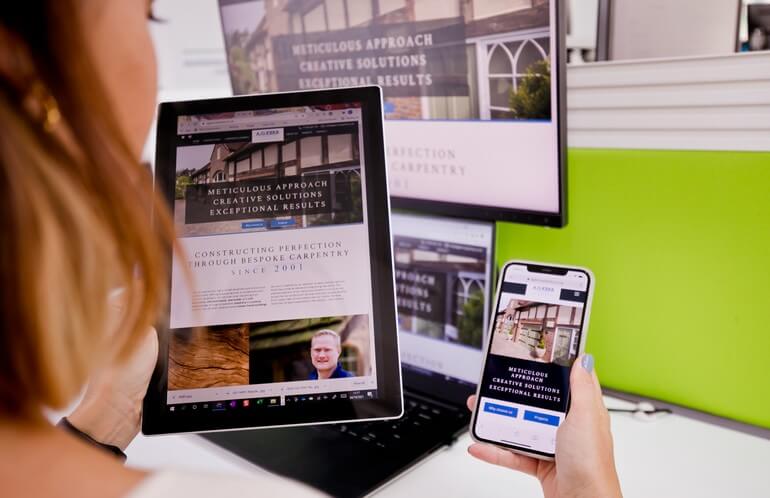 All successful businesses need a good website behind them. It's such an important part of your image and should be viewed as an extension of your business, taking its personality and representing it online.
38% of people will stop engaging with a website if it is unattractive.
Make sure this isn't your website – ask us to create a beautiful website that is a perfect reflection of you.
We are an award-winning web marketing agency serving the Surrey area, and we help clients to transform their businesses, building up a strong reputation in their local area. Our clients become the go-to businesses in their field, in their locality, all thanks to our talented website design team and web marketing knowledge.
This is why you need a high-quality website:
It will help project a professional image
A well-optimised website can be found on Google
You can target your ideal customers and generate leads
It's a great way to build up your reputation online
A website is the cornerstone of your marketing strategy
Your website is a fundamental marketing tool
> Develop your marketing strategy
Tell us about your business
An effective digital marketing strategy can transform your business and connect you with your audience
– let us show you what's possible.
Call 0800 772 0022 or email [email protected] to arrange your consultation.
Websites built to boost your business
User experience must be a priority on your website. It's essential your customers can find what they are looking for and have an enjoyable user journey, being guided every step of the way with a helpful navigation, simple design and clear content. Our chosen content management system is WordPress, offering great features that prioritise user experience and make websites easy to use.
 We have more than 100 years' experience and we know exactly what makes a good website:

A bespoke website tailored to you
We don't use templates – your website will be completely unique, designed and built to meet your needs.

Full professional photography
Our packages include a photoshoot for your business, giving you beautiful, unique imagery to use online.

All your content, professionally written
We have in-house copywriters who work with you to create accurate, targeted copy.

A fully responsive design
We design and build websites that look just as good on all devices, including tablets and mobile phones.

Search Engine Optimisation (SEO)
We will ensure that your website is technically perfect in the eyes of Google, and will re-direct any authority you have from your existing website to your new one.

A fast website
Each and every image will be optimised so that your website will load quickly for visitors when they land for the first time.

Security and peace of mind
Hosted on our secure servers with an HTTPS certificate, websites are backed up daily and all software is kept up to date to reduce the risk of a security breach.

Lead optimisation
By including calls to action and a clear user journey, we can help you generate new leads for your business.

Full project management
Our team take care of every aspect of your website design and build project, so there's no stress for you.

Reporting
We install Google Analytics and set up custom reporting, allowing you to track your website performance.
We include cloud-based hosting on a secure server within every package, and we provide an SSL certificate via Let's Encrypt. This is a free solution, so you won't be billed for it. We will install any software updates required, ensuring that your website stays secure, and we will back it up daily to protect you against any loss of data.
We include an SSL certificate and secure hosting in every package. Your website is kept on a cloud-based server and is backed up daily for protection, plus we complete all software upgrades to keep your site secured.
As all-round web marketing experts, we can offer ongoing services like SEO, social media and blogging once the web development process is complete. We will only ever offer services that can genuinely help you; we complete research, carry out consultations and look into keywords to be 100% sure we're taking the right approach. You can rest assured your business comes first when you work with us.
We build our reputation on trust – clients choose to stay with us because we achieve results for them. This is why we have so many satisfied clients, who refer their friends and family on to us. We don't tie you into a restrictive contract so it's up to us to create the best possible customer experience. And we do exactly that: Make Me Local clients are happy clients.
Talk to us about web design in Surrey and see how we can help you. We are always happy to meet for a casual, no obligation chat. Call 0800 772 0022 or email [email protected] to get the conversation going.
Our web design portfolio
We have helped many small businesses and SMEs in Surrey create successful websites. Some are brand new to the market, and others are well established businesses – our websites can boost anyone's online presence.
Here are some of our favourites:
What do clients in Surrey say about us?
"I approached Nathan at Make Me Local with lots of different ideas for my new website. Nathan and I worked together and within no time we had a plan. When Nathan finished the website he asked me what bits I would like changed but the website had exceeded my expectation and I did not want anything changed.
I am over the moon with the outcome and I also would like to say to Nathan, thank you for making it such a stress free experience and producing such as high end website. I will be highly recommending Make Me Local to all my friends and family."
DAVE PRINCE, HEATING SERVICES LTD
Reach your audience
Talk to us about a new website for your business in Surrey. We can help you to be found by all the right people and show your customers what you are all about. You are welcome to pop into our office for a chat at any time – we are based at 5 Penshurst Green, Bromley, Kent BR2 9DG.