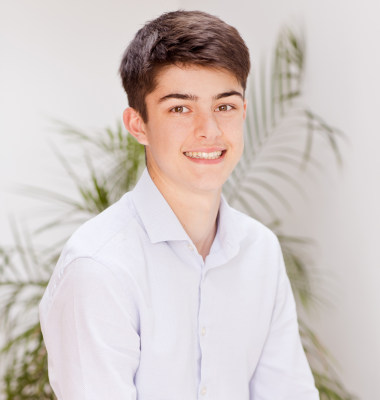 Ewan writes content for our clients' websites. He produces a wide variety of written content to suit your requirements, with the aim of engaging potential customers with your business. His role entails plenty of communication and research so that he can truly understand the businesses that he is writing for. Being adaptable and delivering relevant content that is tailored to any profession is of great importance, ensuring our clients receive results that exceed their expectations.
During his free time, Ewan is likely to be found playing some form of sport. Football, cricket, and golf are all popular pastimes that allow him to keep active and unwind.
Ewan's Quickfire Questions
What's your job in a nutshell?
My job is to produce engaging written content for our clients' websites.
Tell me some of the most important things about your job role. What do you need to be good at?
It is vital that I understand how a client wants their website to be presented. Having good listening skills is imperative in order to produce content that meets a client's expectations.
Give me two or three pieces of wisdom about your role. What is particularly important?
You need to make sure that what you have written is engaging. Creating unique content is crucial when trying to attract any potential customers. Attention to detail goes a long way.
You need to adapt to the business you're writing for. Successful content needs to demonstrate their expertise and present them in the best possible light.
Which Make Me Local value is most applicable to your role?
Strength through teamwork – As a team of copywriters, we communicate regularly to ensure that the content we produce is the best it can be.
How did you get into your industry? What interests you about it?
I have held a passion for writing since I was young, so when I was given an opportunity to develop my skills at Make Me Local it was an easy decision. In this role I produce a variety of written content that contributes towards our clients' websites, which I find very rewarding. No two projects are ever the same.
Describe yourself in 3 words.
Adaptable, intuitive, creative.
Tell us something we won't know about you (or more things, if you can)!
I support Charlton Athletic FC and have been a season ticket holder since 2007.
Never have I ever…
Been to America.